Top 5 Projects of 2021 with NanaWall Moveable Glass Wall Systems
By NanaWall Systems, December 27, 2021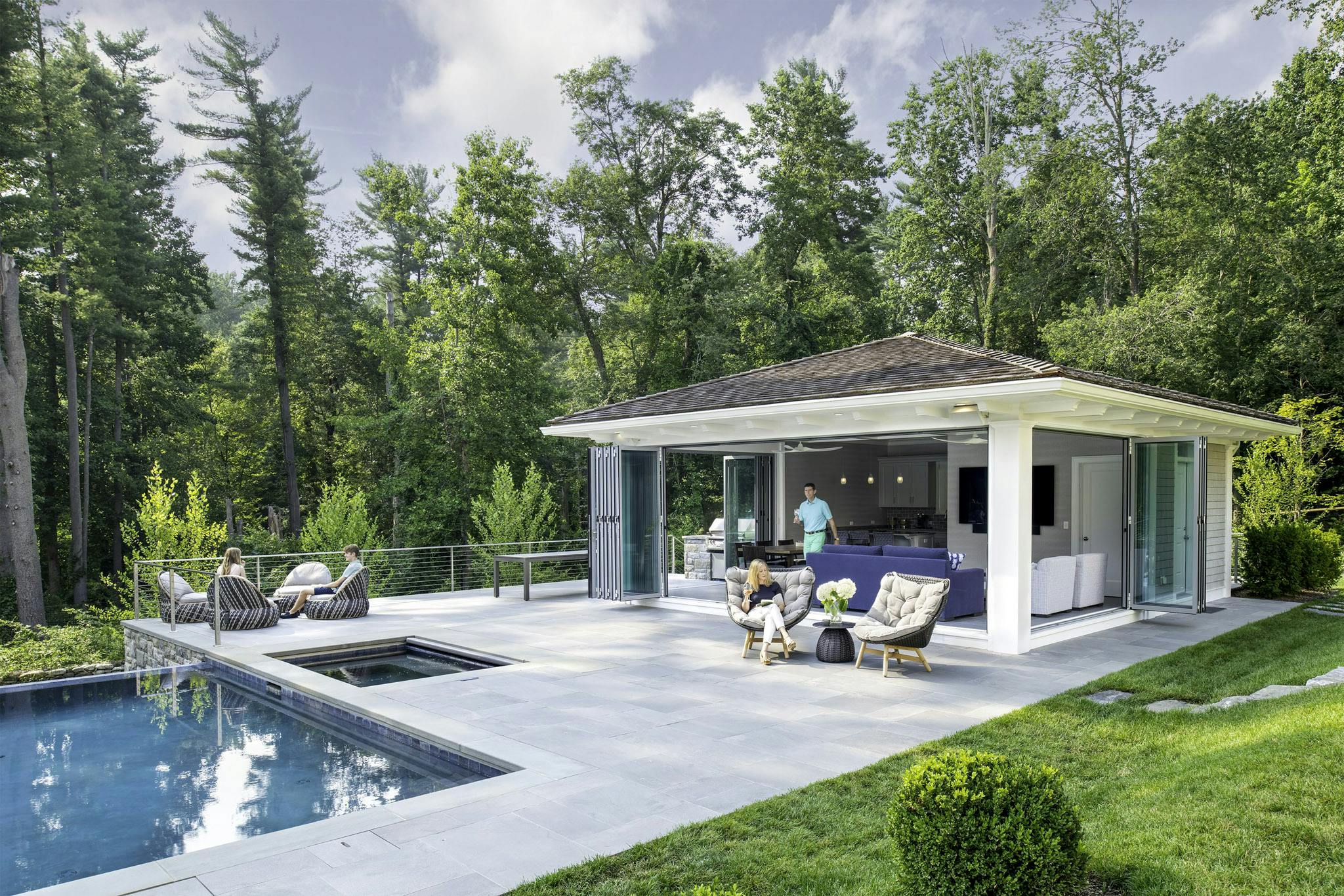 As we welcome a new year, we like to reflect and highlight some of the best 2021 projects featuring our NanaWall moveable glass wall systems. From residential to commercial applications, this year's projects delivered design-forward indoor/outdoor spaces, which are highly coveted in post-pandemic times. In the upcoming months, we expect these open-air spaces to only increase in popularity. From providing abundant daylight, fresh air ventilation, and views to flexibility and sound control, these design solutions feature innovative engineering that protects interiors from harsh weather and provides endless durability. Better yet, these systems are fully customizable to your project requirements and aesthetics.
Top 5 Residential Projects with Moveable Glass Wall Systems
1. Knoll Pool House, New York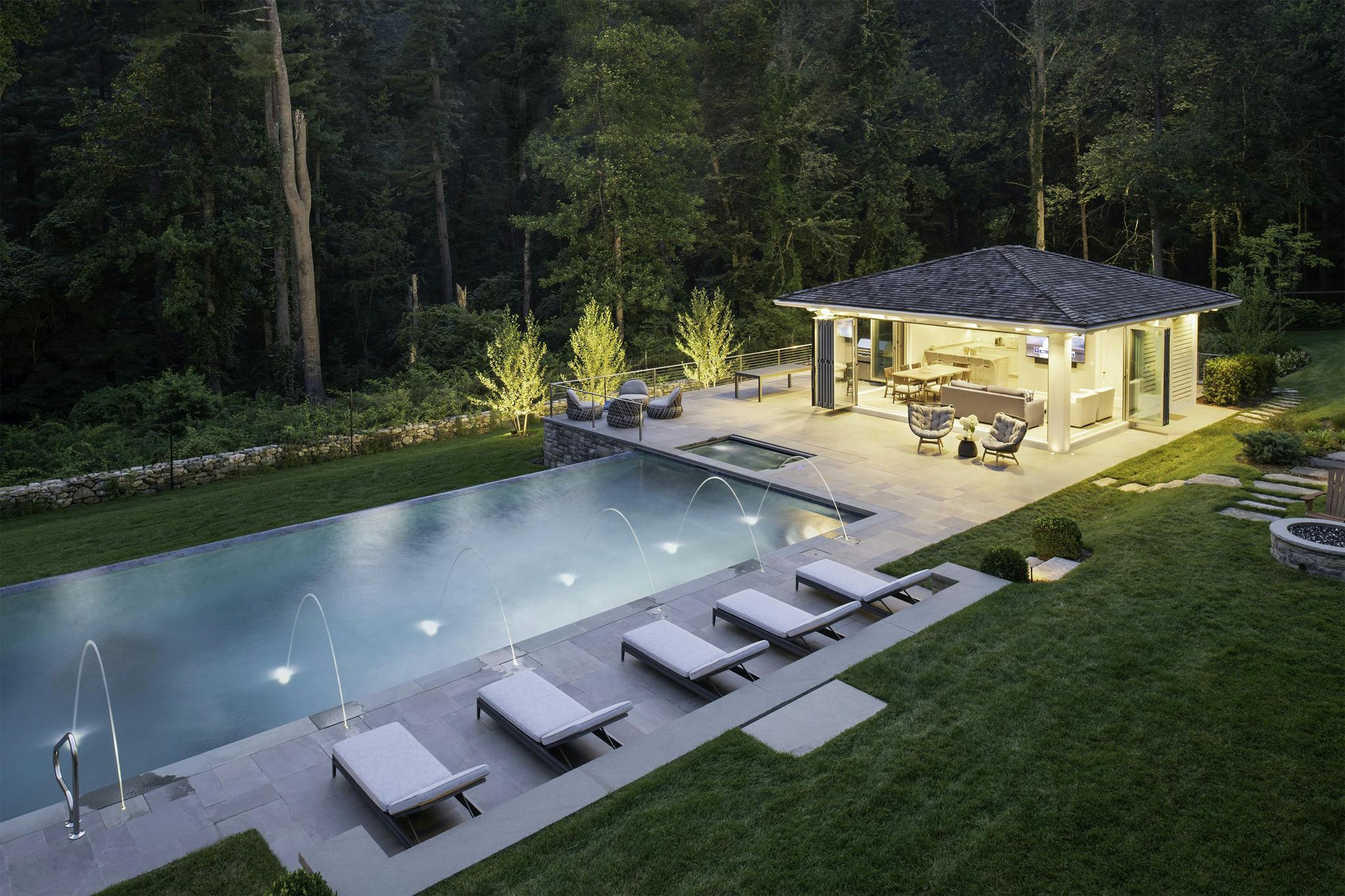 One of the first projects with our Generation 4 Folding Glass Walls, this Armonk, New York Colonial offers a family of four the ideal backdrop for outdoor recreation. When building the new outdoor entertainment space, the homeowners wanted to optimize their proximity to a protected patch of woodland and prioritize landscape views. Key to that strategy was specifying an operable three-sided opening to the pool house, allowing the space to transform into a poolside cabana when opened and a multifunctional living space when closed. Lured by the thinnest frames available in the folding glass wall market, the homeowners opted for three NW Aluminum 840 moveable glass wall systems. Offering the smoothest operation, flexible stacking options, and advanced weather performance, the design of the folding glass walls facilitates smooth, barefoot-friendly transitions to the surrounding outdoor and indoor amenities.
Discover more about this project here.
2. Farmhouse Modern Home, Maryland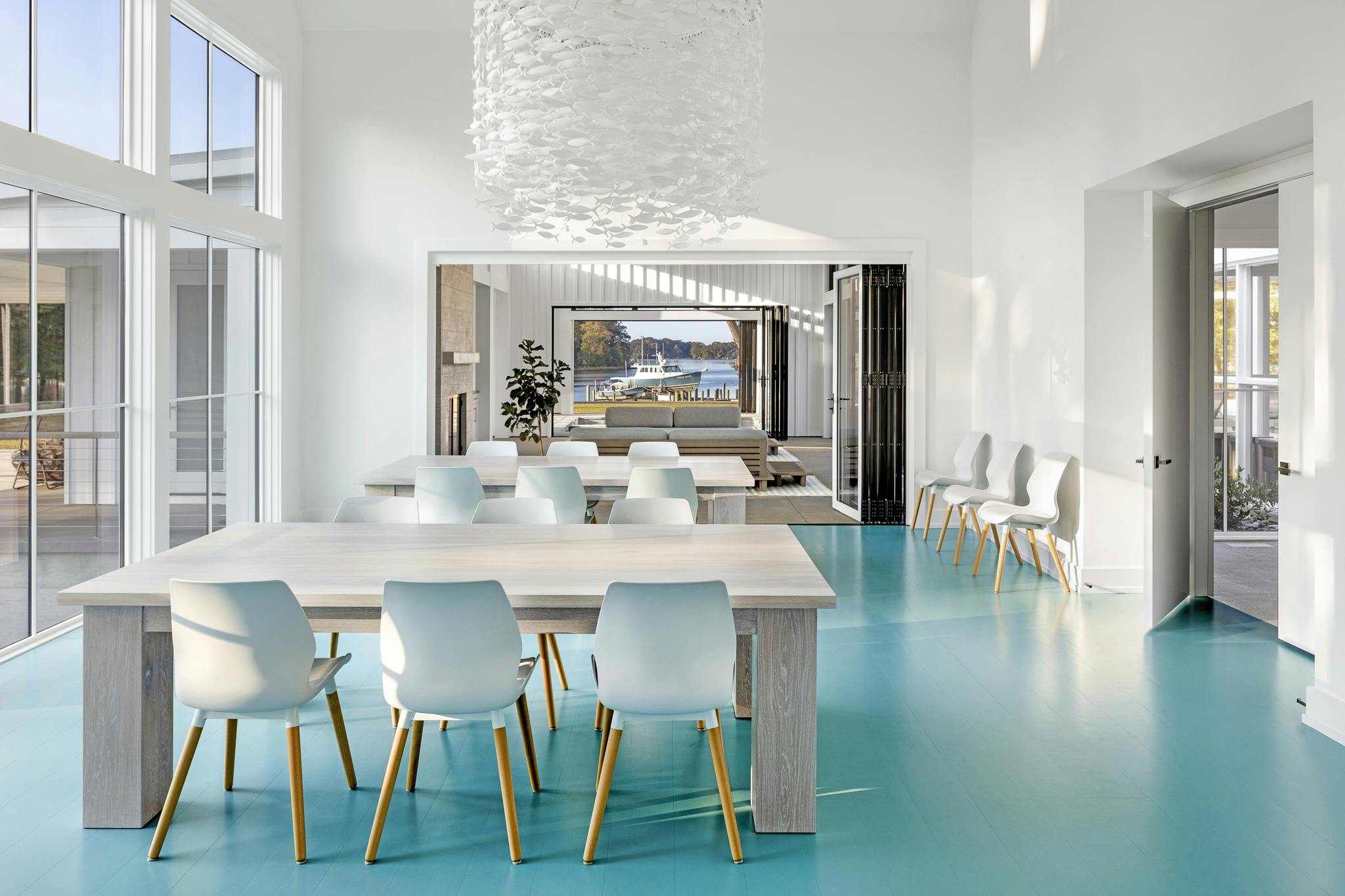 Featured in countless publications and most recently in Home and Design Magazine, this breathtaking Queenstown, Maryland property is a farmhouse modern dream. Three years after purchasing the 14-acre property, the homeowners sought a new space to accommodate large gatherings, especially in the kitchen and pool areas. Leveraging the expertise of Lynbrook of Annapolis and Kimmel Studio Architects, the homeowners demolished the existing dwelling and built a new "farmhouse" with a collection of smaller buildings on either side, including the indoor/outdoor living areas with multiple NanaWall moveable glass wall systems. The dining room with an eye-catching aqua-colored floor connects to a seating area and a glass wall-enclosed "plunge pool" via a series of folding glass wall systems. According to the homeowner, the new property has seen an abundance of family events and reunions—bringing the family together while enjoying the great outdoors…and trust us, these grounds are amazing.
3. Kahieluana Vacation Home, Hawaii
Tropical luxury has never been more attainable. Bordering the aquamarine waters of Puako Bay, this Hawaiian Airbnb offers amenities galore and the ideal getaway for immersing with the environment. Kahieluana, which means "a place to relax and enjoy the company of loved ones," was built around the idea of connecting with nature and creating a seamless indoor/outdoor atmosphere. Key to achieving an open-air feel was the specification of multiple floor-to-ceiling folding glass walls on the backside of the home where views to the Pacific Ocean were prime. NanaWall SL45 moveable glass wall systems open all the main living areas and bedroom suites for an authentic immersion with the natural environment—even offering bathing outside! In the kitchen, FoldFlat Technology allows the panels to completely fold parallel to the opening to create a seamless transition into an outdoor dining area—almost as if there were no walls at all. Sign us up for the next vacation!
Discover more of this project here.
4. The Charles Apartments, Georgia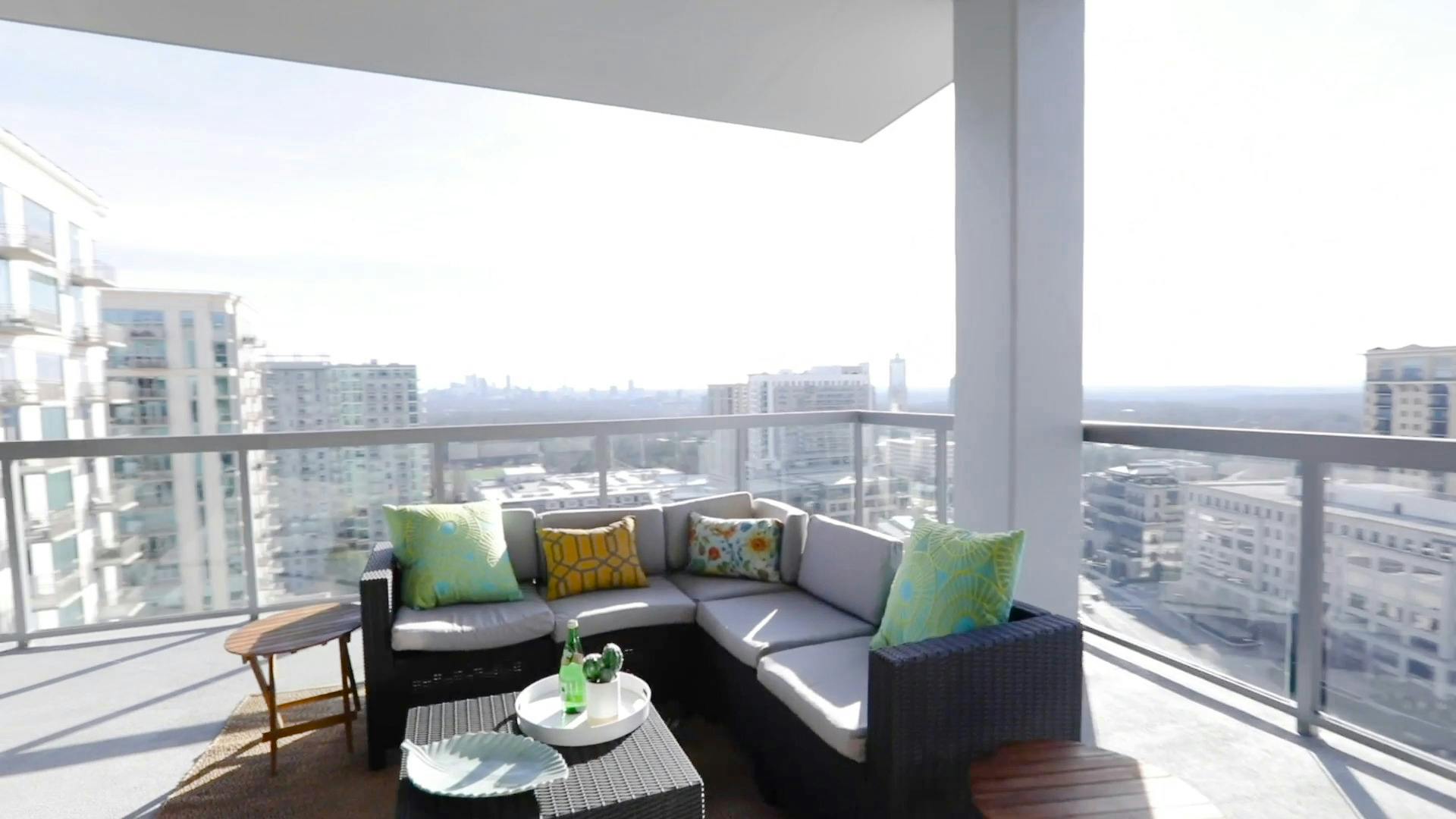 The Charles condos in Atlanta, Georgia offer its owners luxury living and sky-high views to the city with moveable glass wall systems in nearly every unit. NanaWall folding glass walls present modern, open living environments in an urban setting with spacious terraces that offer owners their own little piece of the outdoors. In a city there is nothing more luxurious than that. These easily operable systems create seamless thresholds into outdoor living spaces without sacrificing weather performance and energy efficiency—not to mention abundant daylight and fresh air ventilation promoting healthy residential environments. With more empty nesters and city dwellers seeking the indoor/outdoor connection when selecting places to rent, or own, design solutions like NanaWall systems are sure to attract and retain tenants and increase ROI. Who said you can't have indoor/outdoor living 18 stories up?!
See more of this project here.
5. Loom House, Washington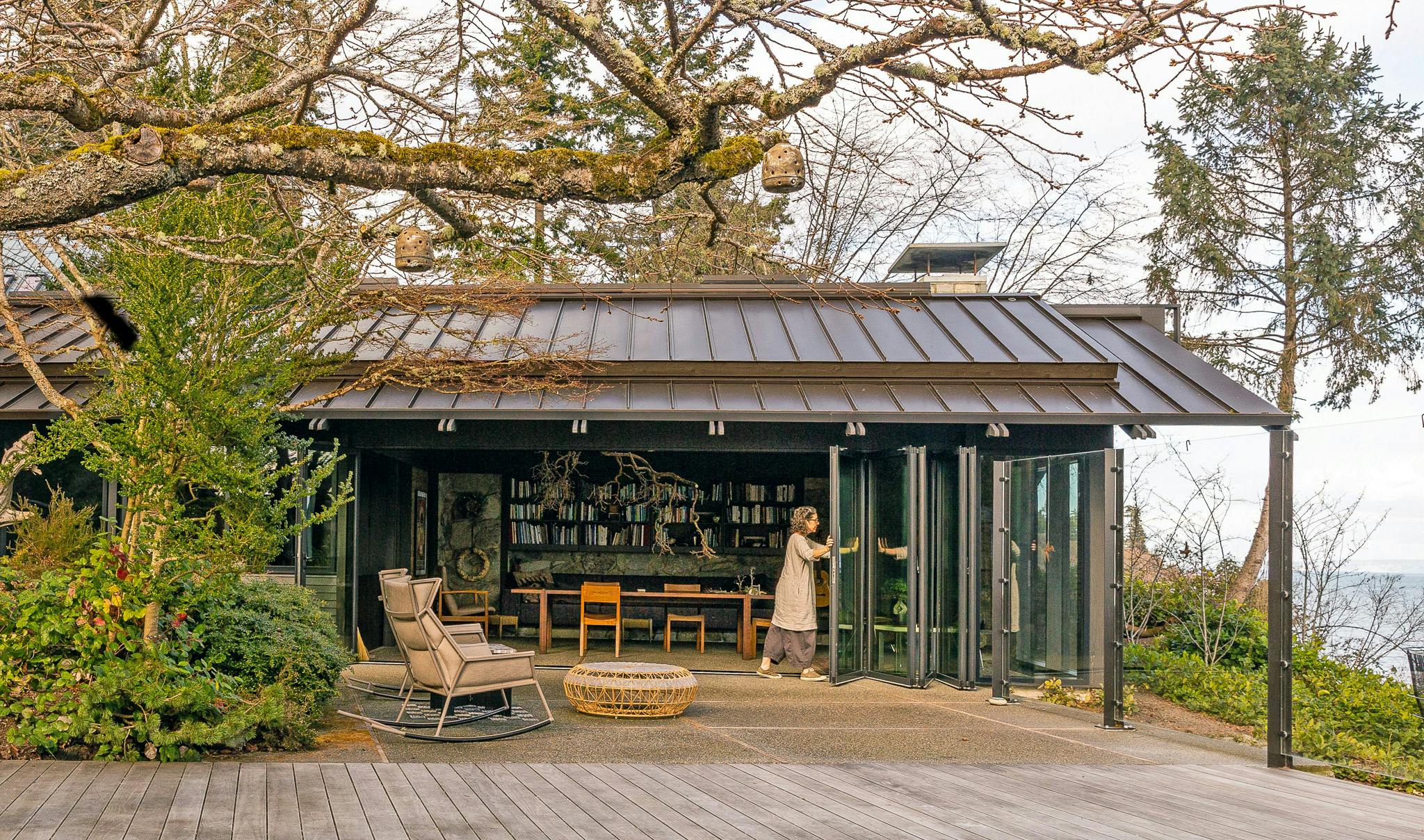 Located on Bainbridge Island off the Washington coast and the most ecologically ambitious renovation on the planet, this 1960s mid-century home has achieved Living Building Challenge certification, a program that aims to promote sustainability in the building environment. The remodel sought to preserve the shells of the existing main house and a smaller guest house/study was added later. To meet net-positive water and energy requirements, the home has its own on-site water treatment and 42 solar panels on its rooftop. LBC also promotes a healthy interrelationship with nature, which the Loom House homeowners perfectly achieved by preserving and enhancing the existing vegetation and opening their dwellings to the outdoors with large expanses of triple glazed fenestration, both fixed and operable. In the guest house, a six-panel NanaWall SL60 bifold glass wall opens to the Puget Sound and extends the multifunctional space into the courtyard for a full indoor/outdoor immersion.
Discover more of this project here.
Top 5 Commercial Projects with Moveable Glass Wall Systems
1. Bar Aperitivo, Canada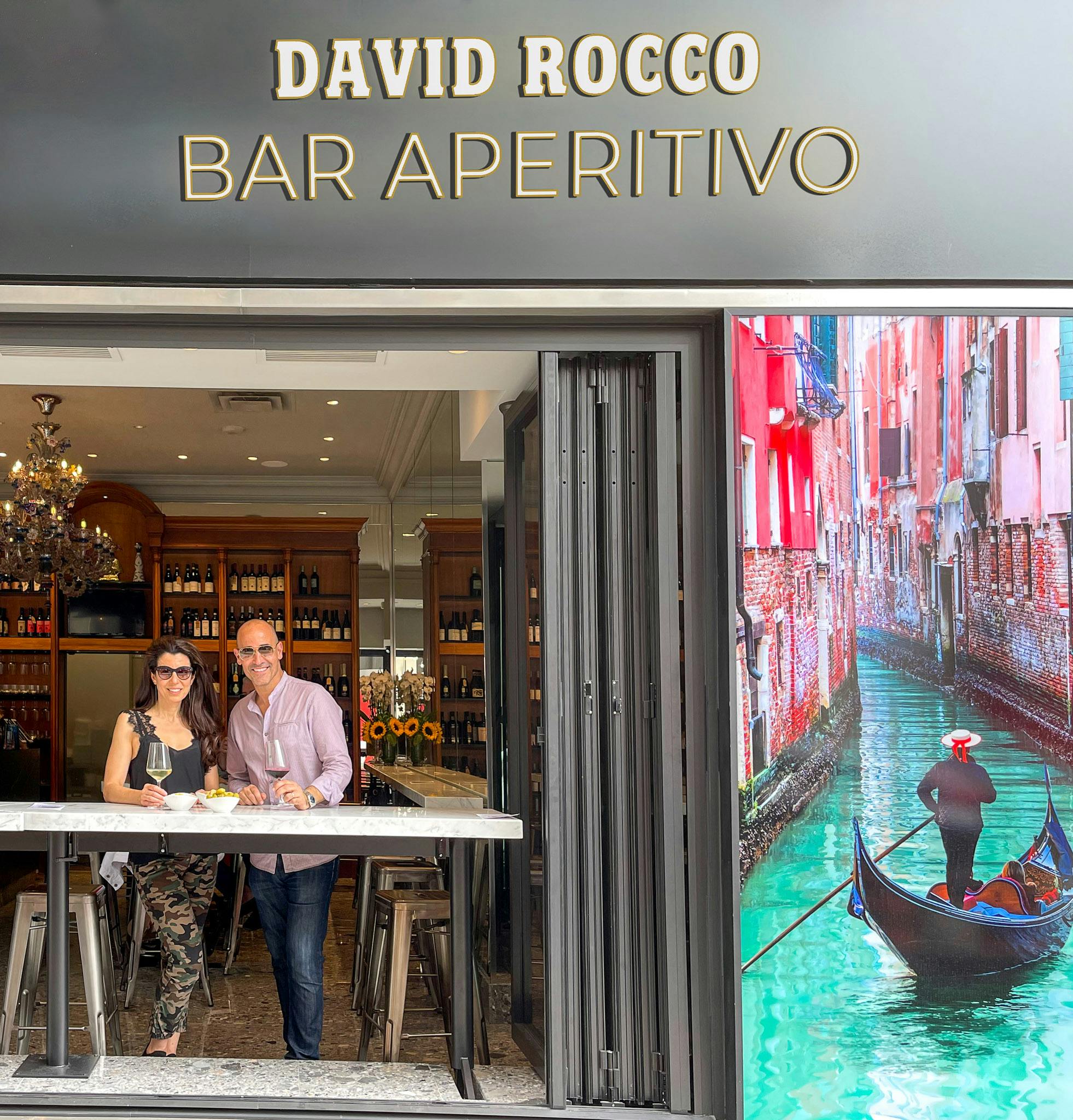 Debuting in early Summer 2021, author, cook, and television host David Rocco's Bar Aperitivo has taken the affluent neighborhood of Yorkville by storm. From authentic Italian cuisine and libations to delicious homemade gelato, the spot had attracted the attention of locals and tourists alike. The relatively small venue needed a unique solution that allowed the panels to be opened while also allowing the bar top height counter to be right on the façade, giving way to a true European café experience. "Being in Toronto and with our cold winters, I've had almost every interior designer, GC, and architect tell me that any window system will be met with a lot of cold, little or no 'exterior use guarantee' and are aesthetically unpleasing," says Rocco. "NanaWall dispels all that!" The Generation 4 NW Aluminum 640 was designed for energy efficiency and strong weather performance, a must for the Toronto climate. Here at NanaWall, we love watching David's Instagram feed for captivating posts on food and his new venue.
2. Fred Segal, California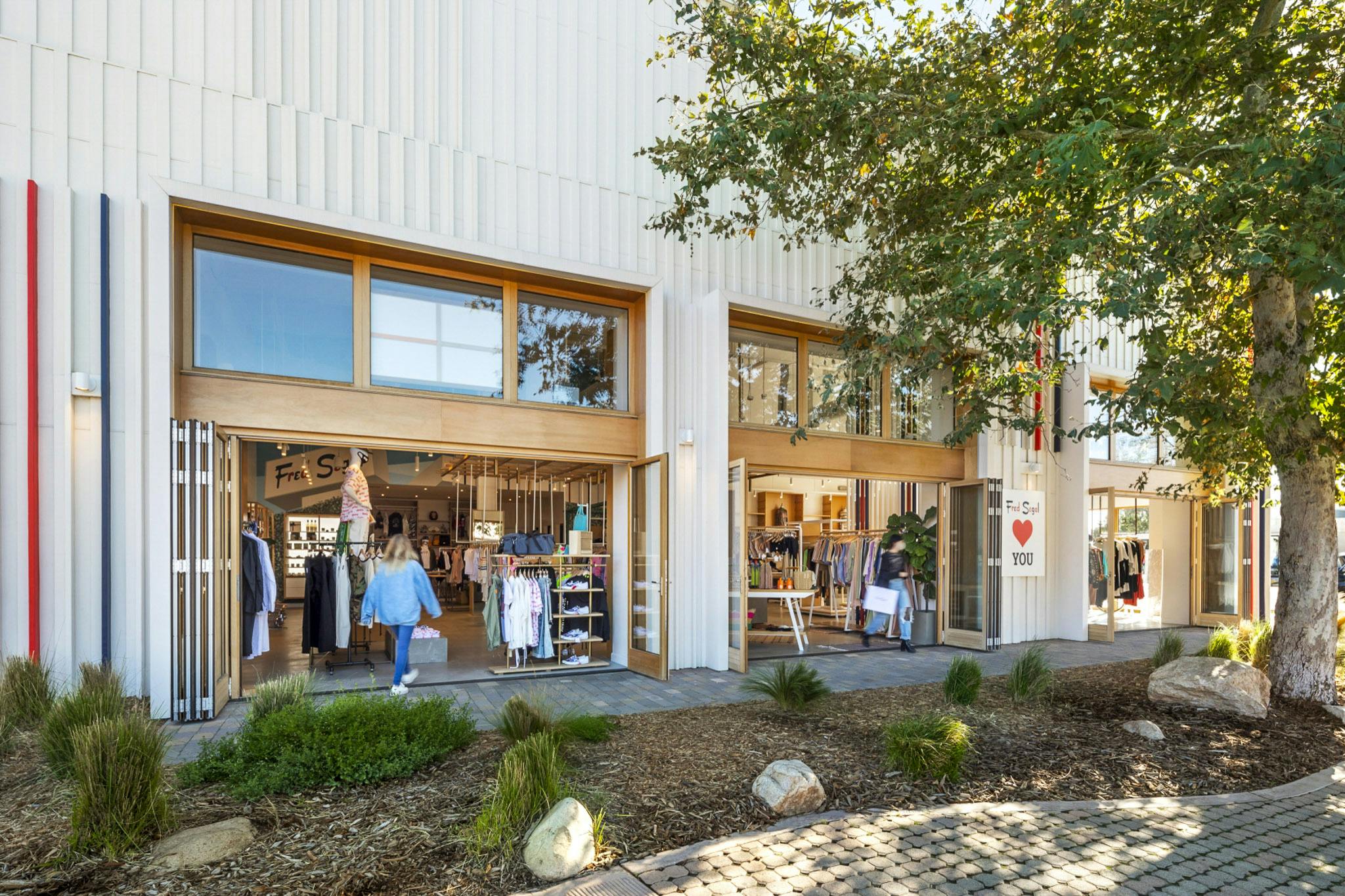 The iconic Southern California brand, Fred Segal, welcomed a new location in Malibu this year embracing the warm California-cool lifestyle with a façade of corrugated metal and wood-framed folding glass walls. With the retail industry slowly and drastically shifting to online retailing, stores are left to develop efficient ways to attract in-person shoppers. A key to that is creating a welcoming store that attracts existing customers and new ones alike. Aside from its infamous logo, artwork and advertisements are deemed unnecessary at the new location. The nearly nine-foot-tall transparent moveable glass wall systems on all its streets and sidewalk-facing walls, as well as floor-to-ceiling windows, give passersby a clear view into the store. Above, the roughly five-foot matching fixed transom windows accessorize their operable counterparts and further embrace natural light. That alone is enough to lure customers in without the need for extensive marketing.
Discover more about the project here.
3. Monsignor Farrel High School, New York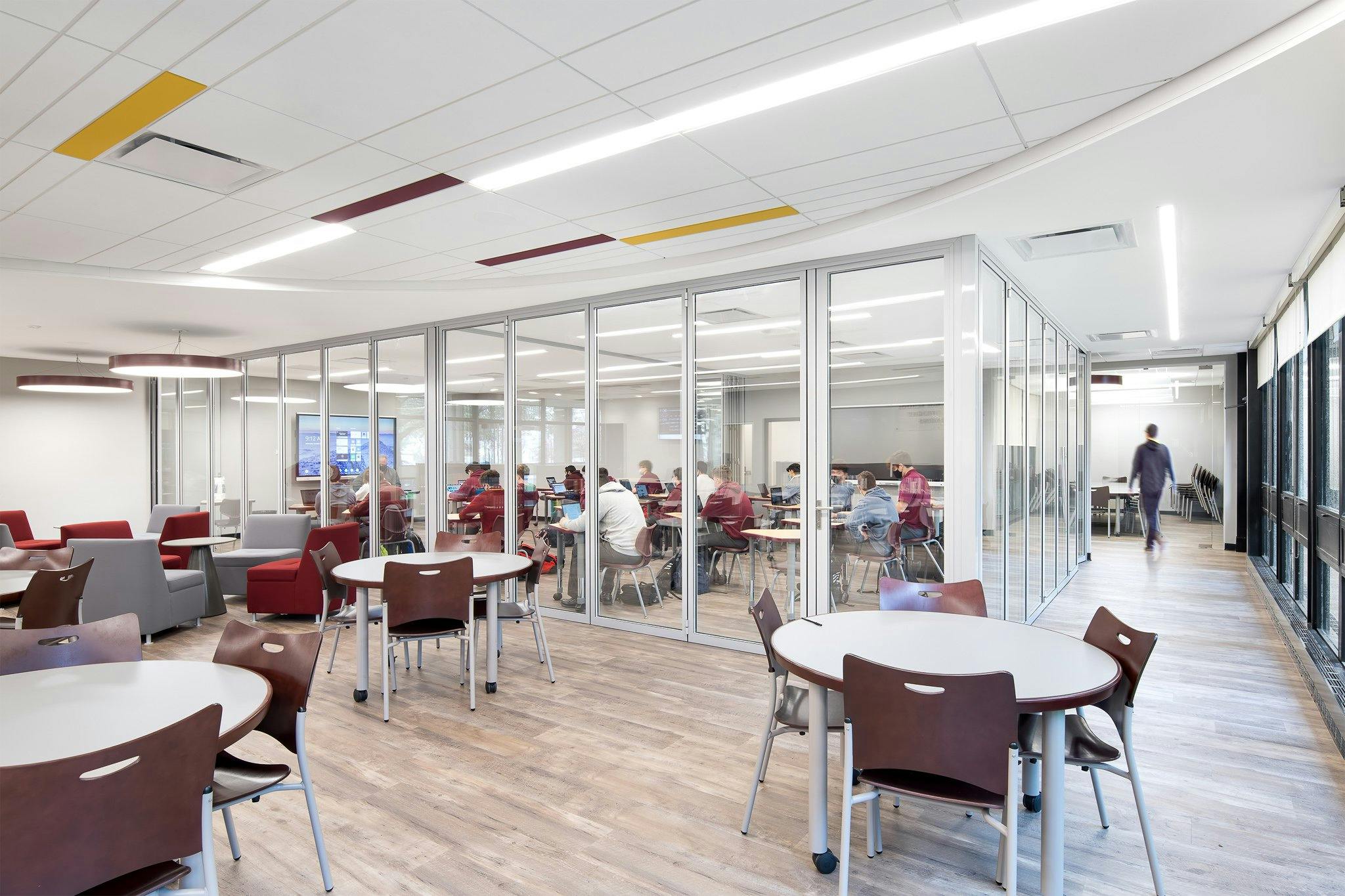 In a never-before-seen layout, sound-controlling moveable glass wall systems create a room-within-a-room effect with four NanaWall NW Acoustical 645 folding glass walls. With the floor-supported NanaWall systems, the strategy was to retrofit an underutilized space and embrace as much natural light and transparency, both key elements in creating 21st Century school design. This uniquely flexible T-shaped and open corner arrangement completely retracts into discreet stacks to host larger classes, collaborative-based projects, and events, or can easily close back with the simple push of a finger to create three separate classrooms. This system combines sleek acoustically separated aluminum framing and specialized gasketing with sound-enhanced glass to achieve optimal performance. With sound control ratings up to STC 45, the acoustical system successfully blocks sound from traveling within each enclosed space, allowing multiple activities to happen at once without one disturbing the other.
Discover more about the project here.
4. University of San Francisco War Memorial Gymnasium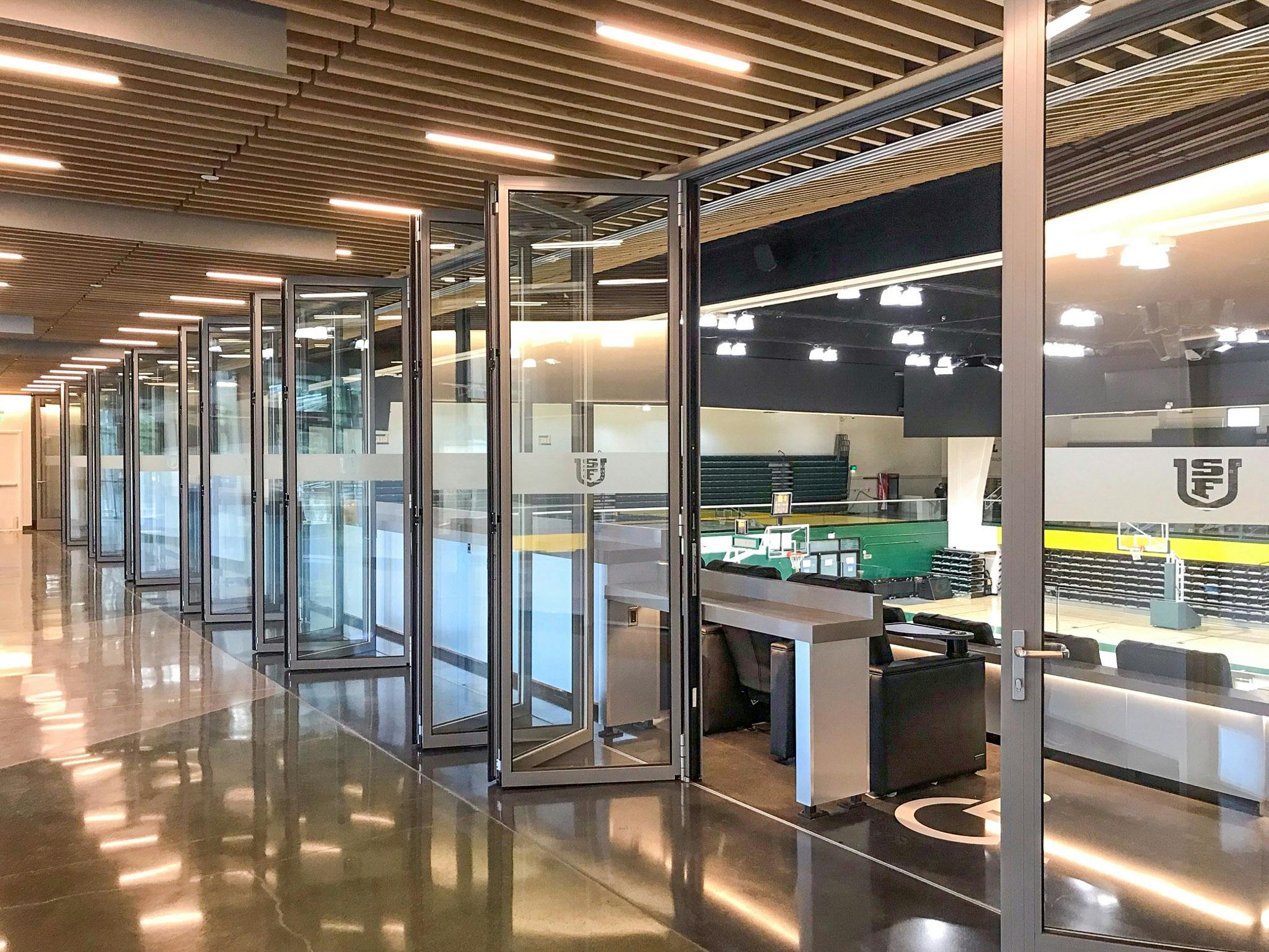 The USF Dons are taking game day to the next level with their brand new Sobrato Center. Home to the oldest basketball venue in the West Coast Conference, the War Memorial Gym was due for modernization. The result was a rebranded, multi-use Sobrato Center with the largest interior acoustic folding glass wall installation to date. NW Acoustical 645, capable of acoustical buffering up to STC 45, was the perfect solution to create a divider between the hospitality lounge and the new club seating areas. The NanaWall Generation 4 acoustic glass wall is floor supported and capable of unlimited widths with the integration of FourFold Panel Sets. The result was a 102-foot, 34 panel opening with two swing doors to facilitate entry and exit when the panels are kept closed. The left/right FourFold Panel Sets make this large span possible, and they help create a truly flexible interior operable glass wall system. The panels can be opened in the middle, at one end, both ends, or entirely disappear into the alcoves.
Discover more about this project here.
5. Opus Steakhouse, New York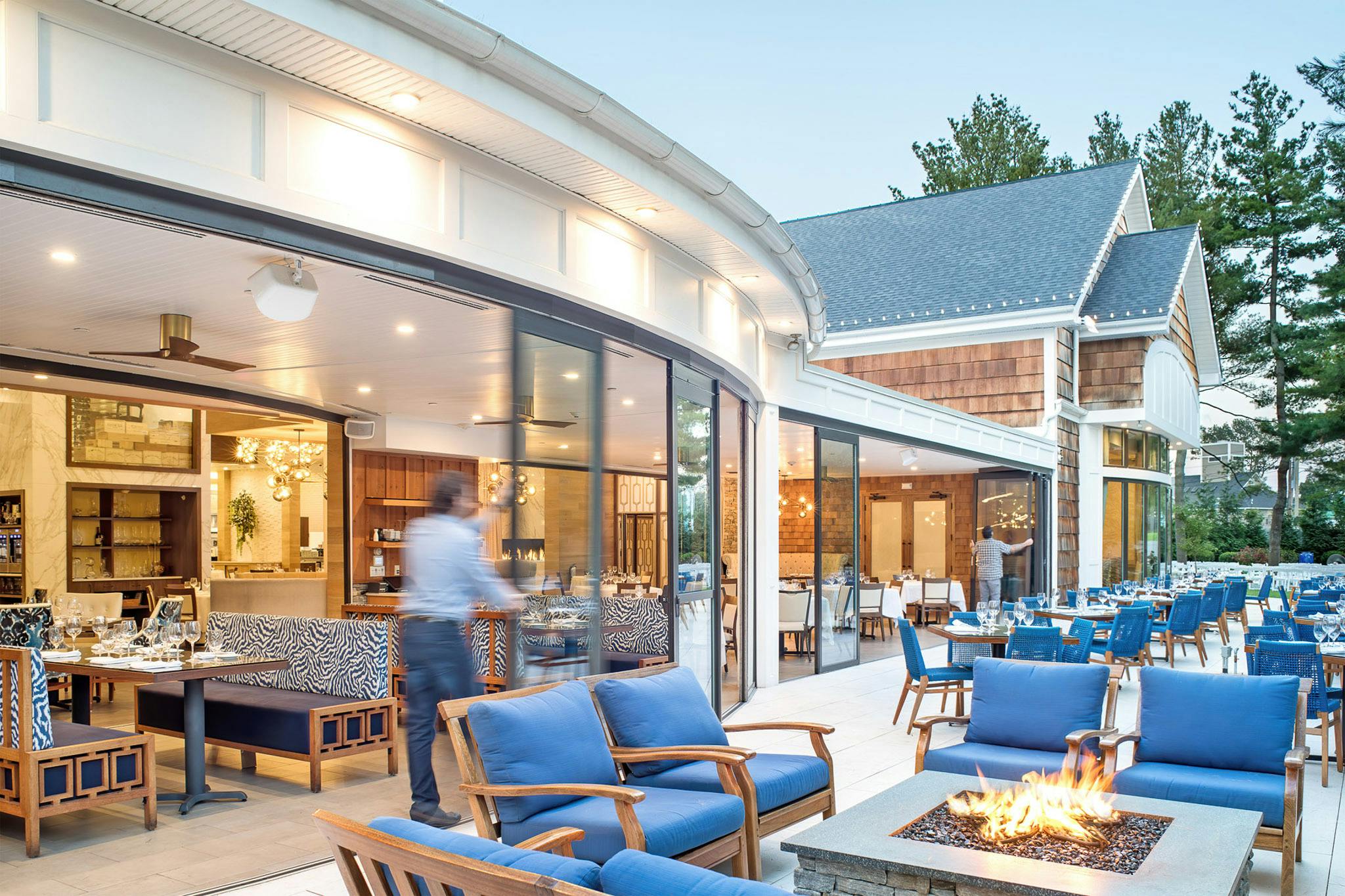 We'll take the next available reservation, please! Scotto Brothers Restaurants have designed their six locales around the concept of moveable glass wall systems, and their latest rebranded restaurant, Opus Steakhouse in Jericho, New York, is no exception. The historic building is compartmentalized into three dining environments, the interior, a covered patio, and an outdoor dining seating area. The curved rear façade is made up of three moveable glass systems, over ten feet tall, that easily open into the broad, open-air patio. Inside, another single track sliding glass wall parallels the exterior system, creating a room-within-a-room dining area and an unbroken connection between the indoor and outdoor spaces. All systems are NanaWall HSW60 single track sliding glass walls, configured as segmented curves, with flat panels traveling in a curving track. This project truly illustrates the amazing flexibility our HSW Systems provide while creating the ultimate fine dining experience for patrons.
Discover more about this project here.
View more awestriking projects with NanaWall moveable glass wall systems from this year and years past in our extensive gallery!