Transform and Improve Multifamily Living Spaces using Folding Glass Walls
By NanaWall Systems, July 20, 2023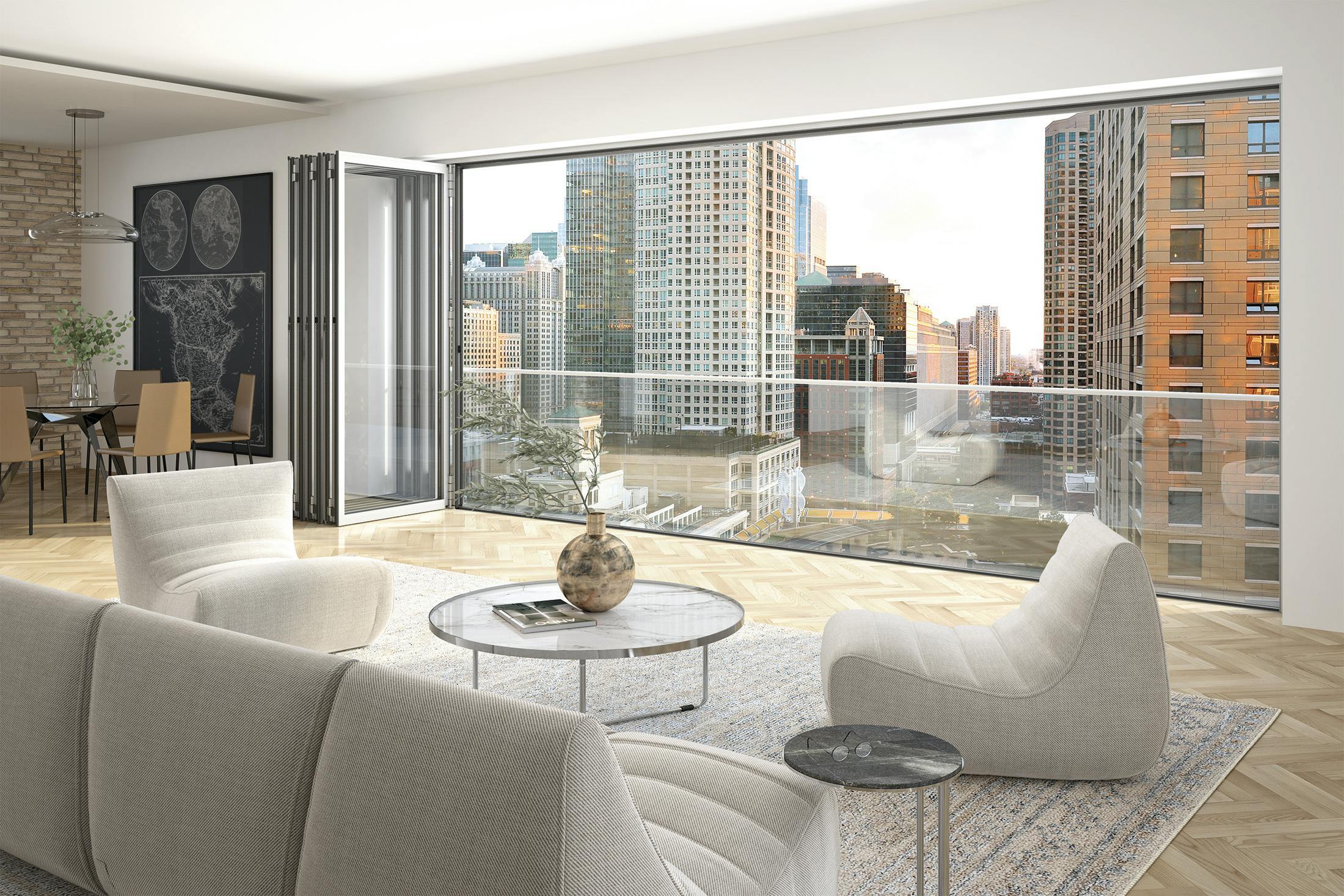 In the dynamic world of architecture and design, creating practical and captivating multifamily spaces is essential. Traditional design methods, like using dated glass sliders, and single terrace doors are antiquated solutions that limit usable space. Today, many architects are turning to innovative all-season folding glass walls and doors to create exceptional designs that stand apart from nearby buildings that have fixed glass walls. Significantly increase living space and open up new possibilities by melding form and function.
Multifamily Design Trends That Improve Living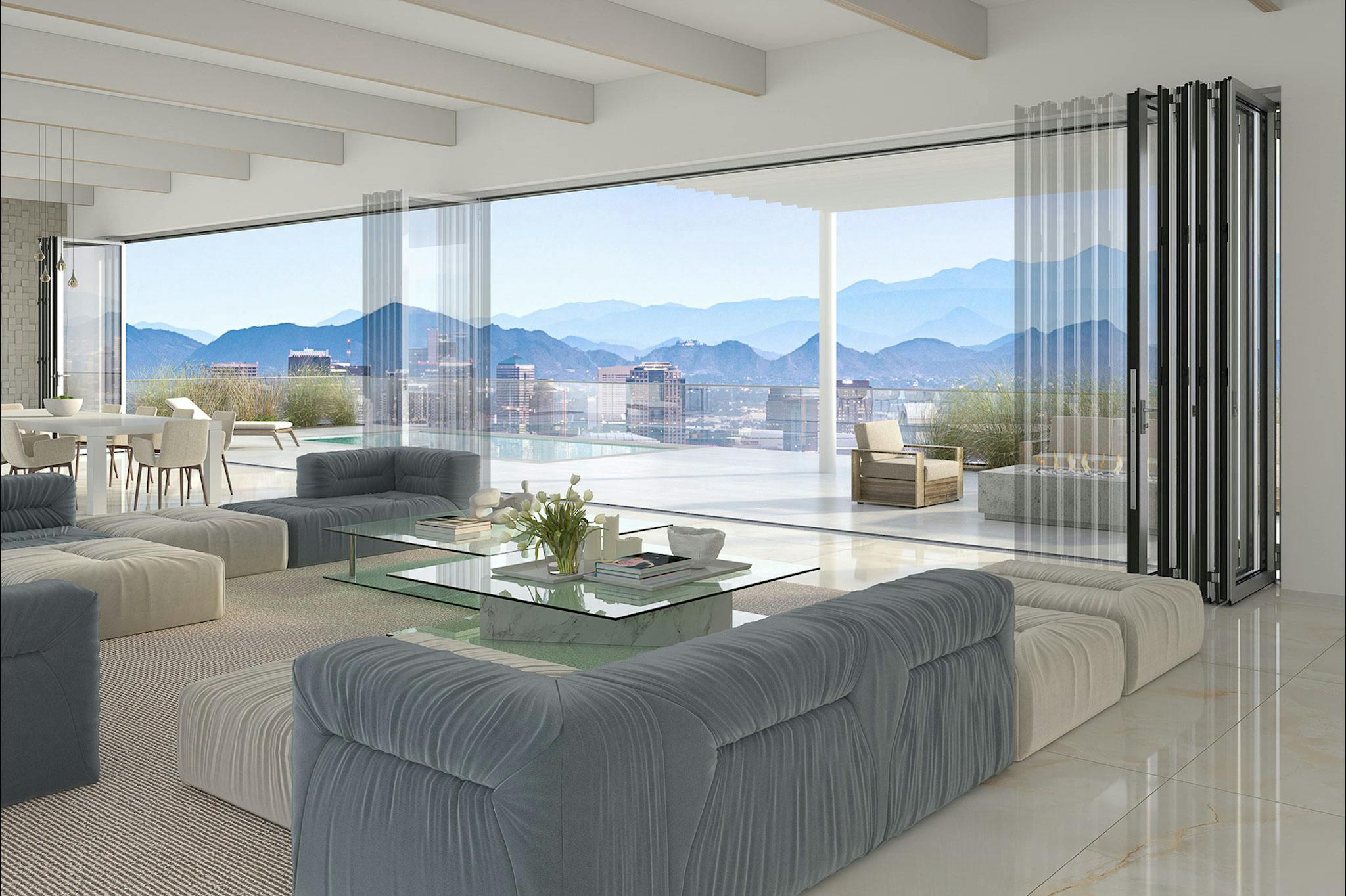 Set Developments Apart from the Competition
In the bustling urban living scene, distinguishing a development is essential. Folding glass wall systems offer unique appeal and enrich living spaces. They expand residents' usable opening width by up to 90%, a distinct advantage over fixed-glass neighbors. Be a pioneer in your market by redefining vertical living, maximizing views, and boosting functionality for residents.
Generation 4 is uniquely designed and is an ideal solution for multifamily, midrise, and high-rise applications. Independently tested, and certified, they are rated to withstand high structural requirements and wind loads. No other folding product provides all-season performance, water-rated ADA compliance, and meets even the strictest of building standards. The ability to stack these systems on either side, including on top of the swing doors, optimizes space and versatility.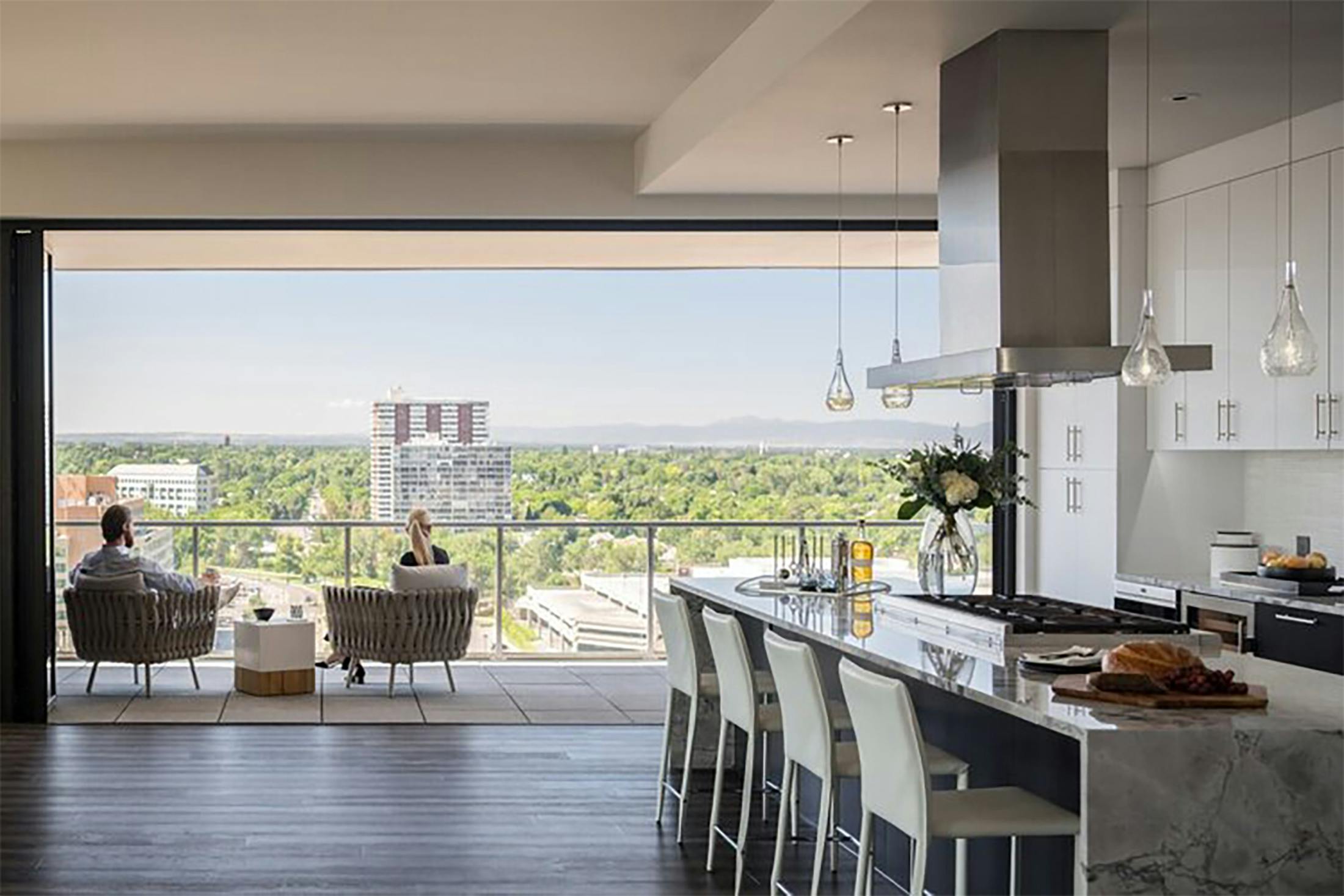 Amazing ROI and Sold-Out Success
As multifamily living continues to evolve, potential residents aren't just seeking affordability and functionality; they're in search of spaces that promote wellness and security. With outdoor living being a rare convenience, folding glass systems provide a sleek, durable, and configurable solution. Even when closed, they enhance livability by illuminating interiors with natural light, offer accessible outdoor living, and increase a property's appeal, ensuring high occupancy rates and optimizing ROI. They extend the available square footage to the outdoors, perfect for maximizing space in midrise and high-rise units. The result is one that every developer seeks—a fully sold-out building before construction is even completed.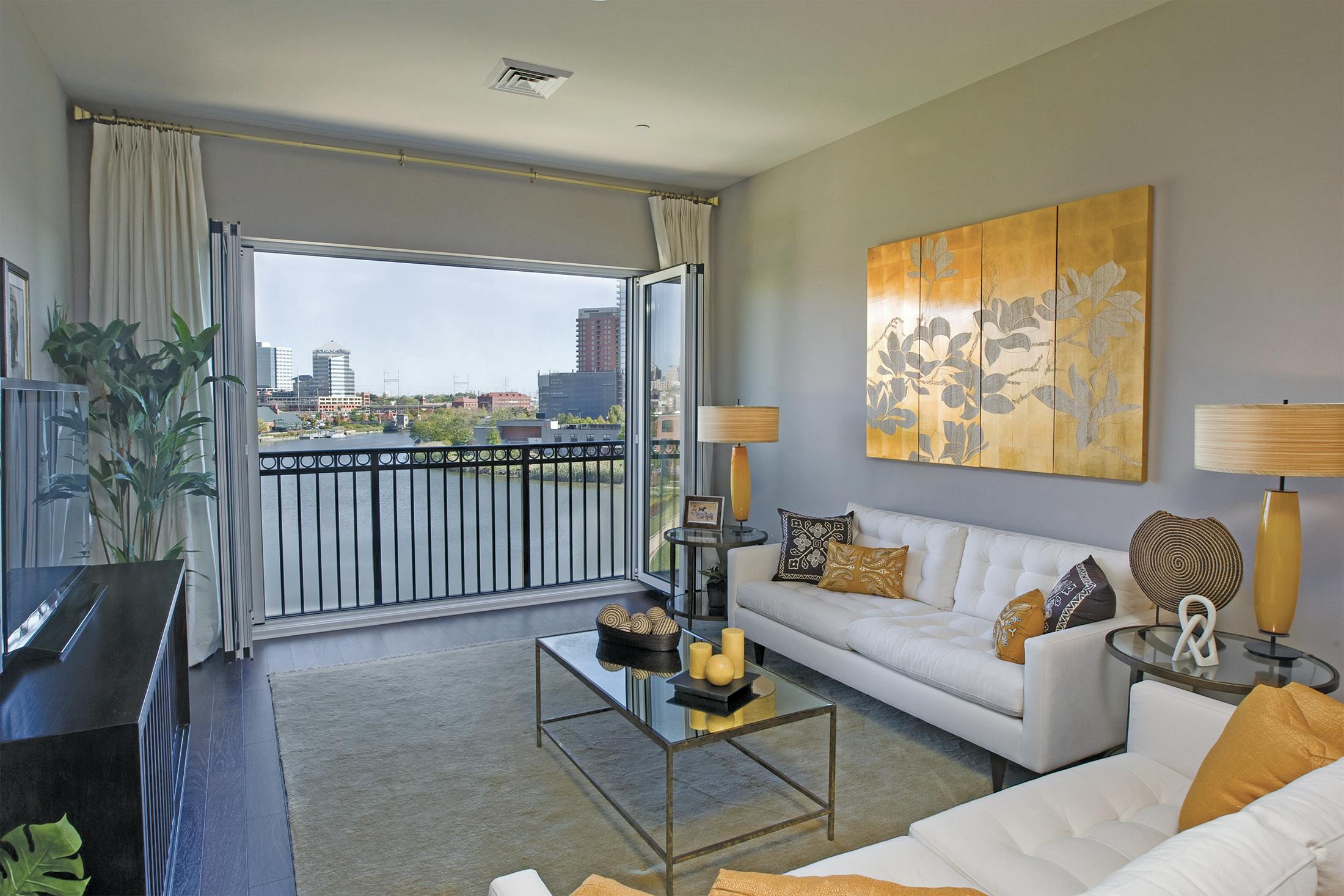 Maximizing Space in Your Development
Folding systems are popular for transforming confined interiors into open, extended, and fluid spaces. Create a large impact, even in the smallest spaces, by crafting a sense of extended living and bringing the outdoors in. Building owners and residents benefit tremendously from optimizing and opening space. By extending interior spaces onto balconies, living areas are effectively enlarged. Any limited Juliet balcony or single door terrace can be dramatically improved by incorporating folding glass walls. These systems enhance aesthetics and create clean sightlines, providing unobstructed views. A premium feature that attracts residents, allows developers to command higher rent, sale prices, and yield higher returns.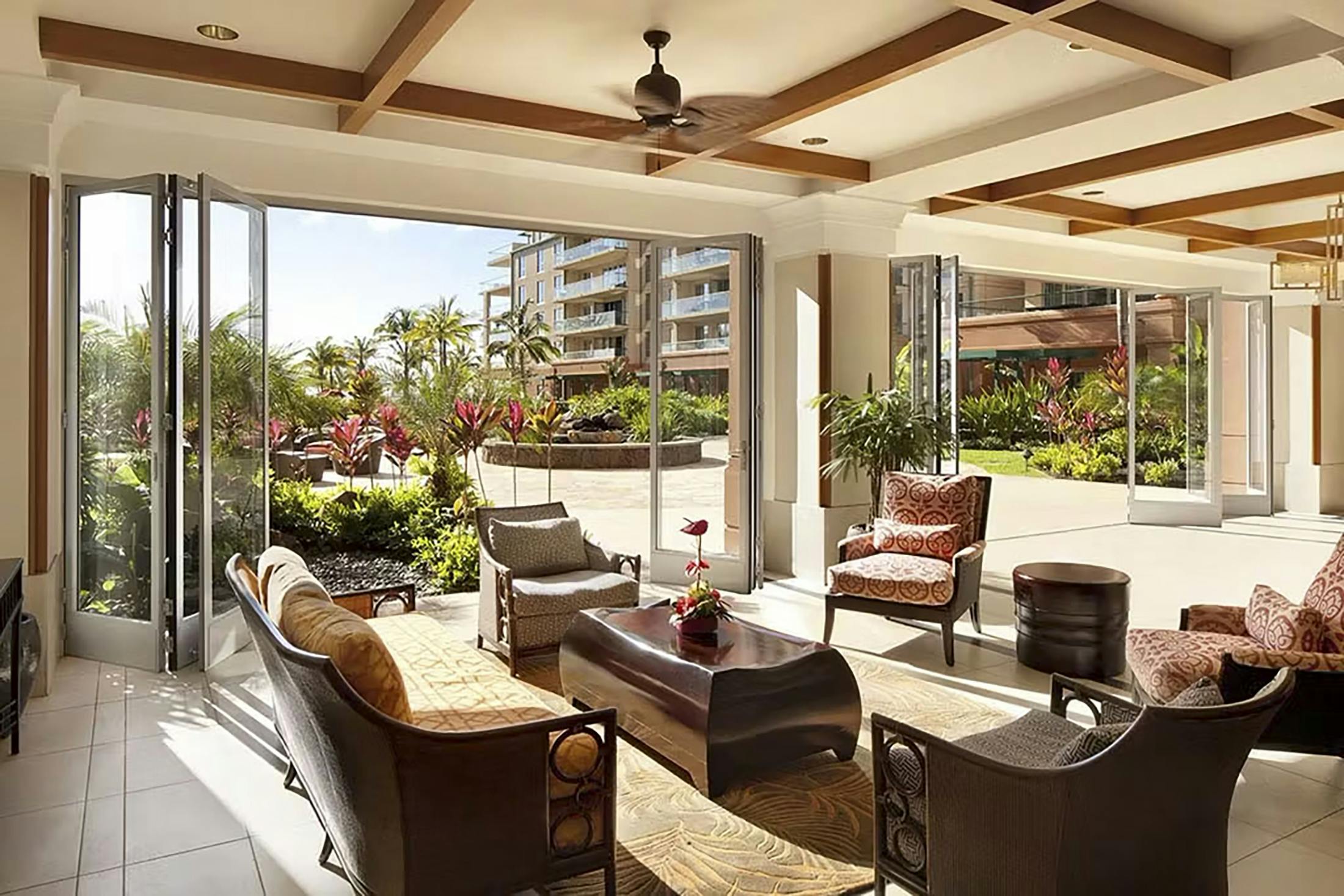 Benefit by Opening Exteriors & Embracing Natural Elements
Multifamily living design is being re-defined through opening exteriors and merging indoor and outdoor spaces into a seamless, inviting whole. Embracing biophilic principles, these systems introduce natural light, sweeping views, and fresh air into both private and shared spaces. From grand entrances to communal and recreation spaces that transition smoothly into outdoor landscapes, these glass wall systems enrich living for residents. Folding glass walls are much more than aesthetic enhancements; they're smart investments and a unique selling point. Nurture and harness wellness by integrating natural elements into architectural design, while increasing resident satisfaction and boosting property value.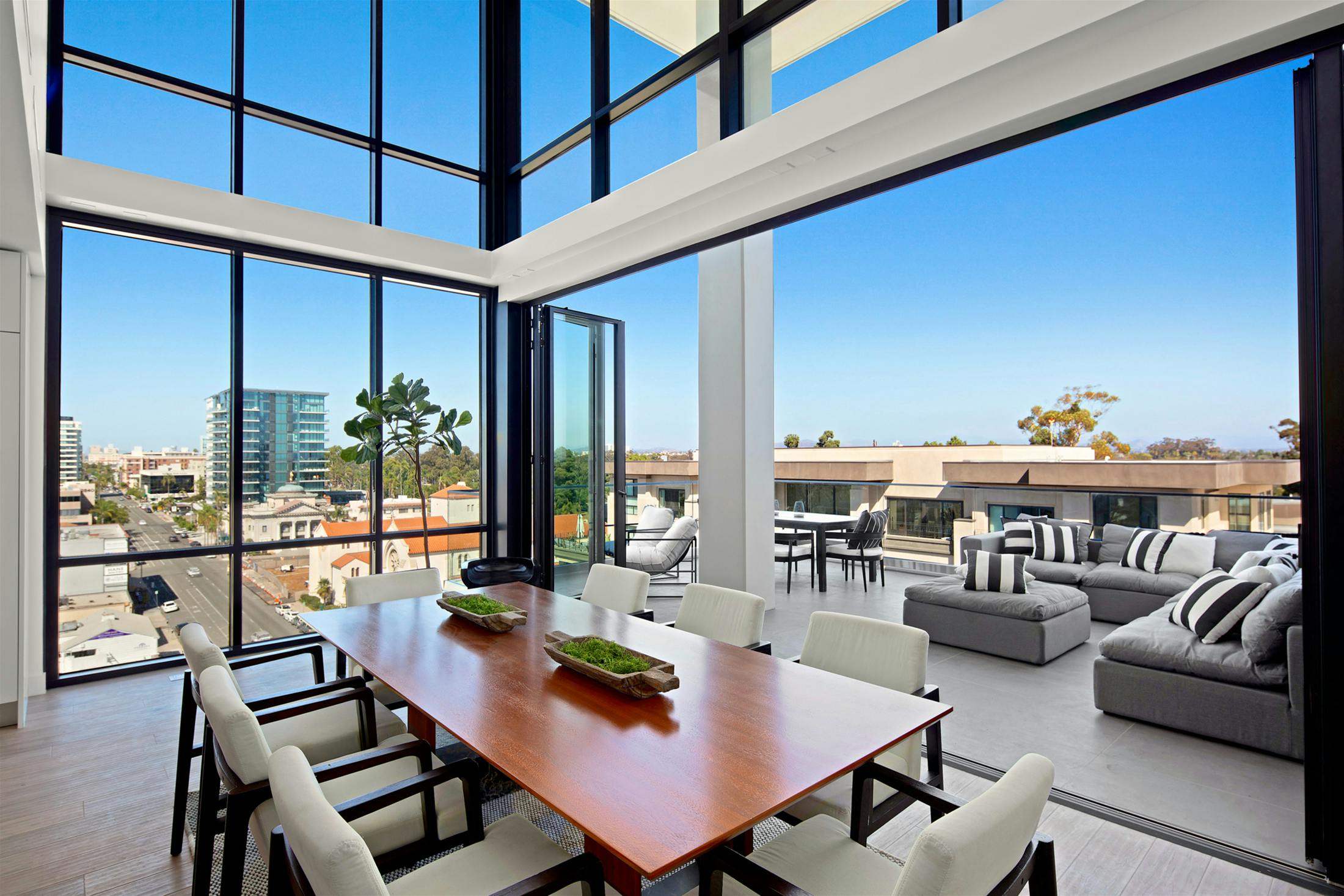 Customizing Indoor-Outdoor Areas for Individual Units
Indoor-outdoor spaces are now a high priority in residential real estate. Balconies with folding systems transform into open-air sanctuaries for relaxation, gathering, and dining. Favored for extending living space, these systems provide up to 90% of the usable opening width - a better alternative to traditional sliders or terrace doors. A perfect example is at 41 West, San Diego. Here, developers preferred folding glass walls over traditional sliders found in the neighboring properties for a superior design maximizing space, and a sense of distinction.
These customizable systems enable designers to tailor any unit to residents' lifestyles. Choose from over 200 powder coat options and even simulated divided lites to harmonize any aesthetics. Customize spaces with folding systems using the versatile frame of aluminum with options for inswing or outswing configurations. These all-season systems are rated and tested for harsh climates, and double or triple glazed options offer thermal efficiency. Other features include swing doors that are independently tested to 500,000 cycles, rated for structural loads, security, and forced entry, as well as water rated, ADA-compliant floor tracks, meeting any project requirements.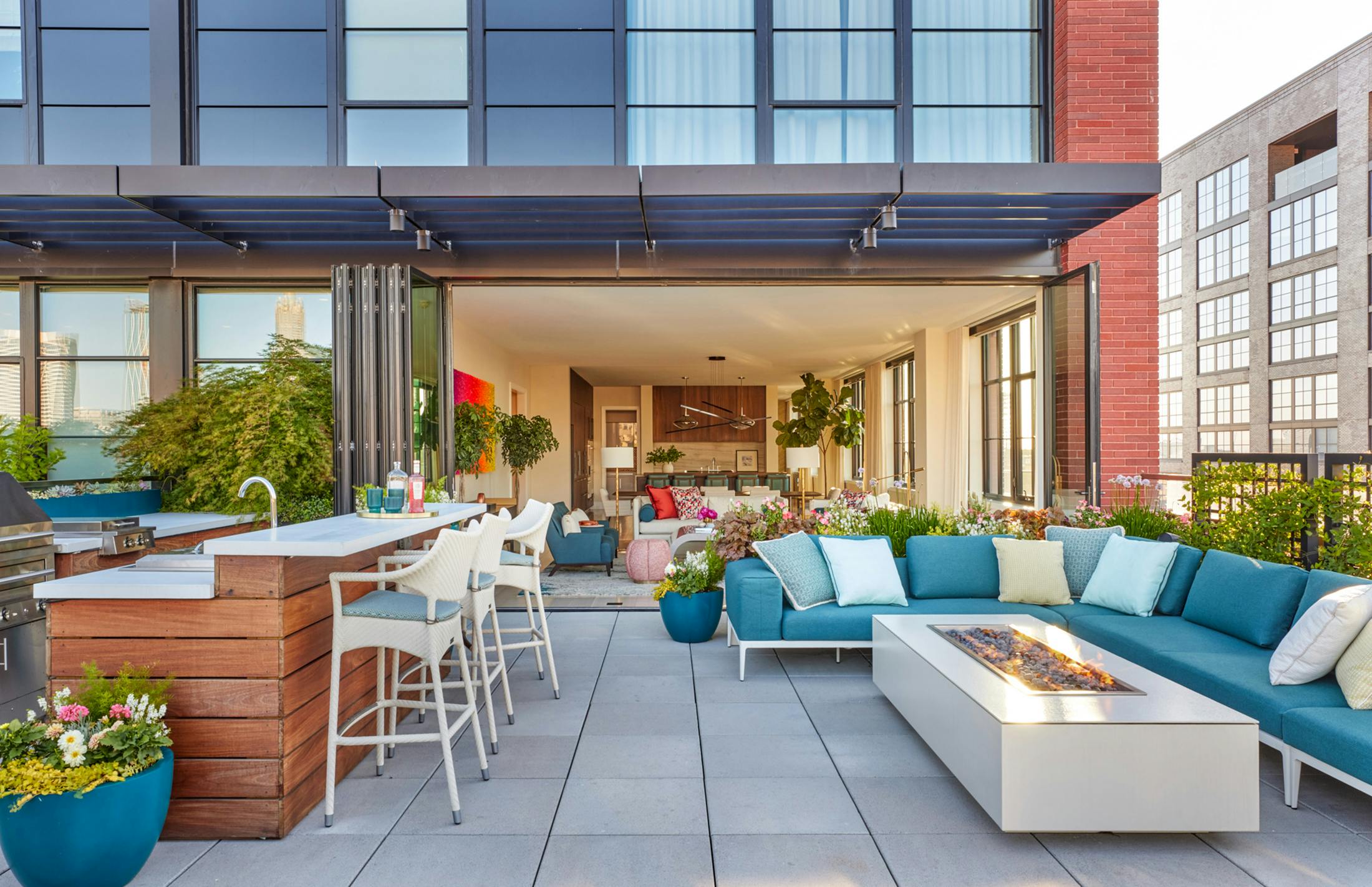 Elevating Urban Outdoor Living with Opening Walls
In urban settings, space is a luxury, and connecting to nature or simply spending time outdoors can become a rare commodity. Folding glass walls are revolutionizing multifamily spaces and facilitating fluid transitions between interiors and exteriors. No matter the space, no matter the size. These systems extend usable living space; and enhance the lifestyles of the occupants. Pictured is a highly sought-after residential building, the Hayden West Loop. With high-performance, all-season SL70 folding systems throughout the midrise, the available square footage is immediately extended to the outdoor living areas for maximum usability whether on the rooftop as shown above, or the smaller terraces of other units.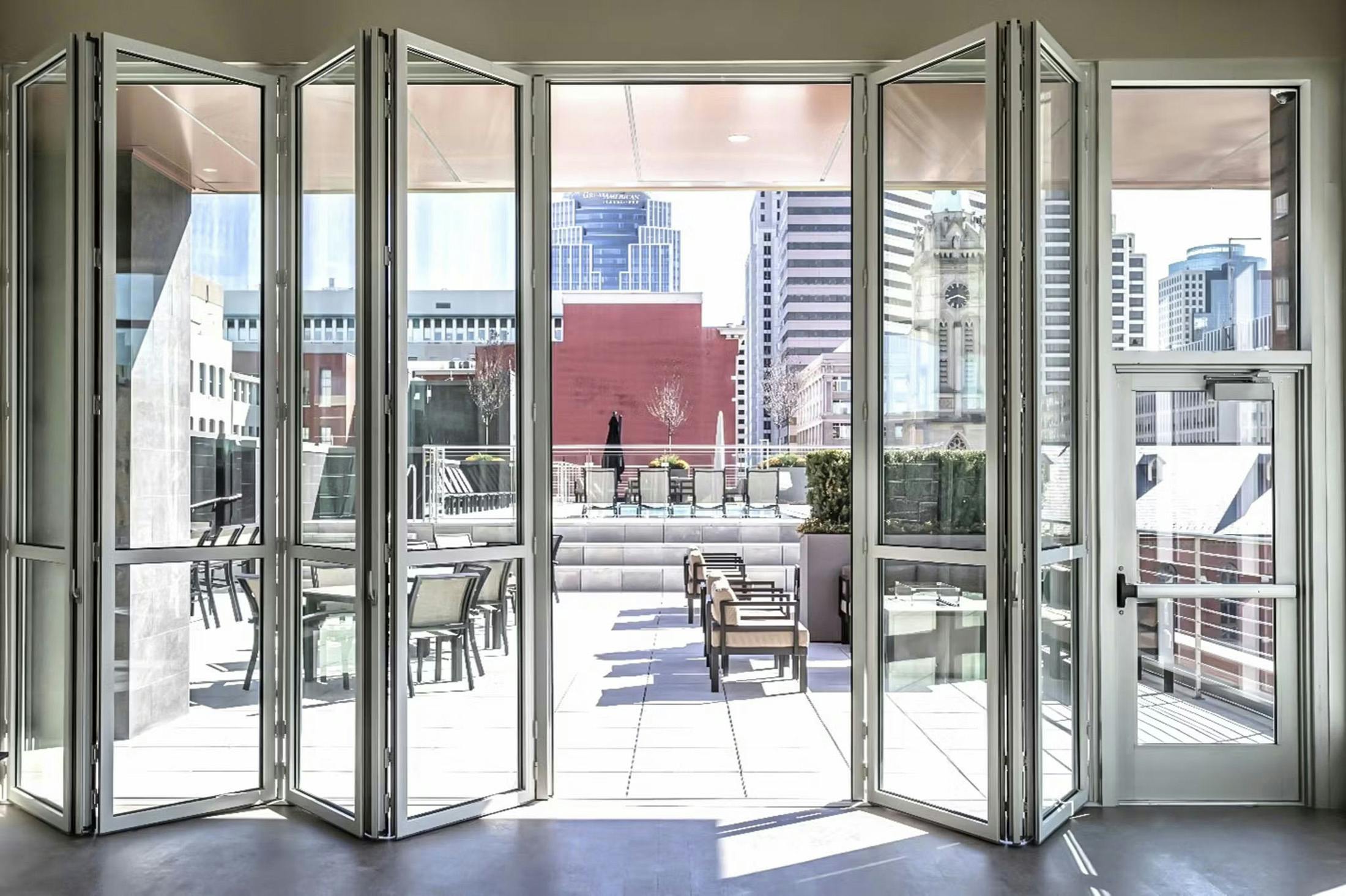 Creating Inclusive, Versatile, and ADA-Compliant Spaces
The amenity landscape in residential developments has transformed far beyond traditional community pools and gyms. Modern residential developments prioritize ADA-compliant spaces and multifamily lifestyles. NanaWall systems feature the industry's only water-rated, ADA-compliant low profile saddle sill, ensuring seamless barefoot transitions and protection from elements. Flexibility is key in contemporary living, with versatile spaces, fitness centers, accessible facilities, and event spaces. Transform high-traffic areas to eliminate congestion and create inclusive environments in mixed-use buildings, offices, and luxury hotels. Adaptable amenities attract renters and buyers and offer strong ROI. These glass wall systems, independently tested, and rated for commercial use, are fully customizable and can include panic hardware and kickplates.
How to Incorporate Folding Glass Walls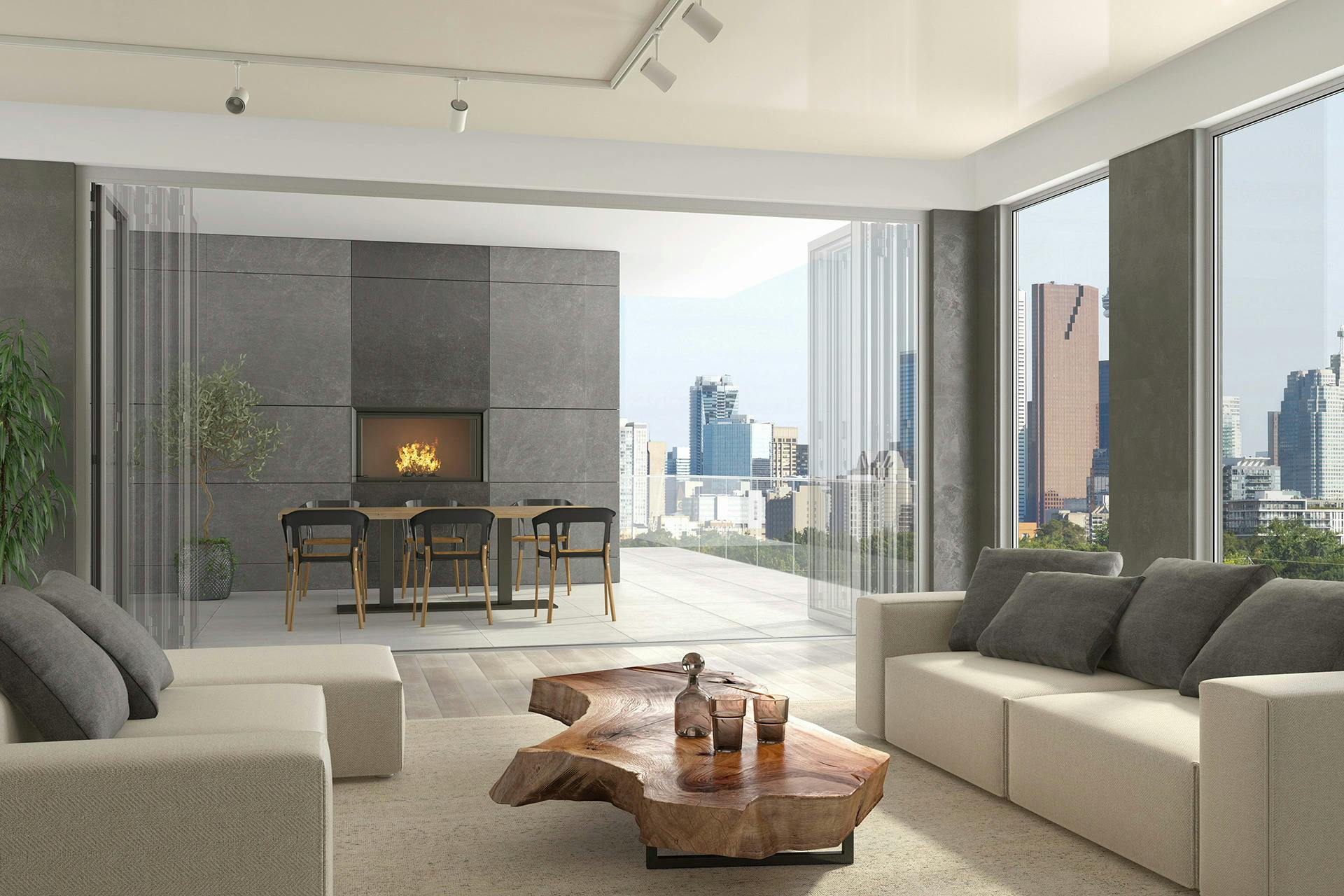 Elevating Luxury Living in Penthouses
Luxury penthouses epitomize urban living with unmatched views and vast spaces. Folding glass walls enhance this appeal, merging indoor comfort with outdoor grandeur, and optimizing space and natural light. Performance all-season systems provide seamless indoor-outdoor transitions and protect against harsh weather conditions making them perfect design solutions for luxury condominium buildings. The innovative Generation 4 line offers reinforced durability for urban buildings, with the slimmest panel frames in the industry, floating FourFold and SixFold panel sets. They can accommodate larger openings panels can stack on the same side as the swing panel, enhancing space planning and making extremely wide openings possible.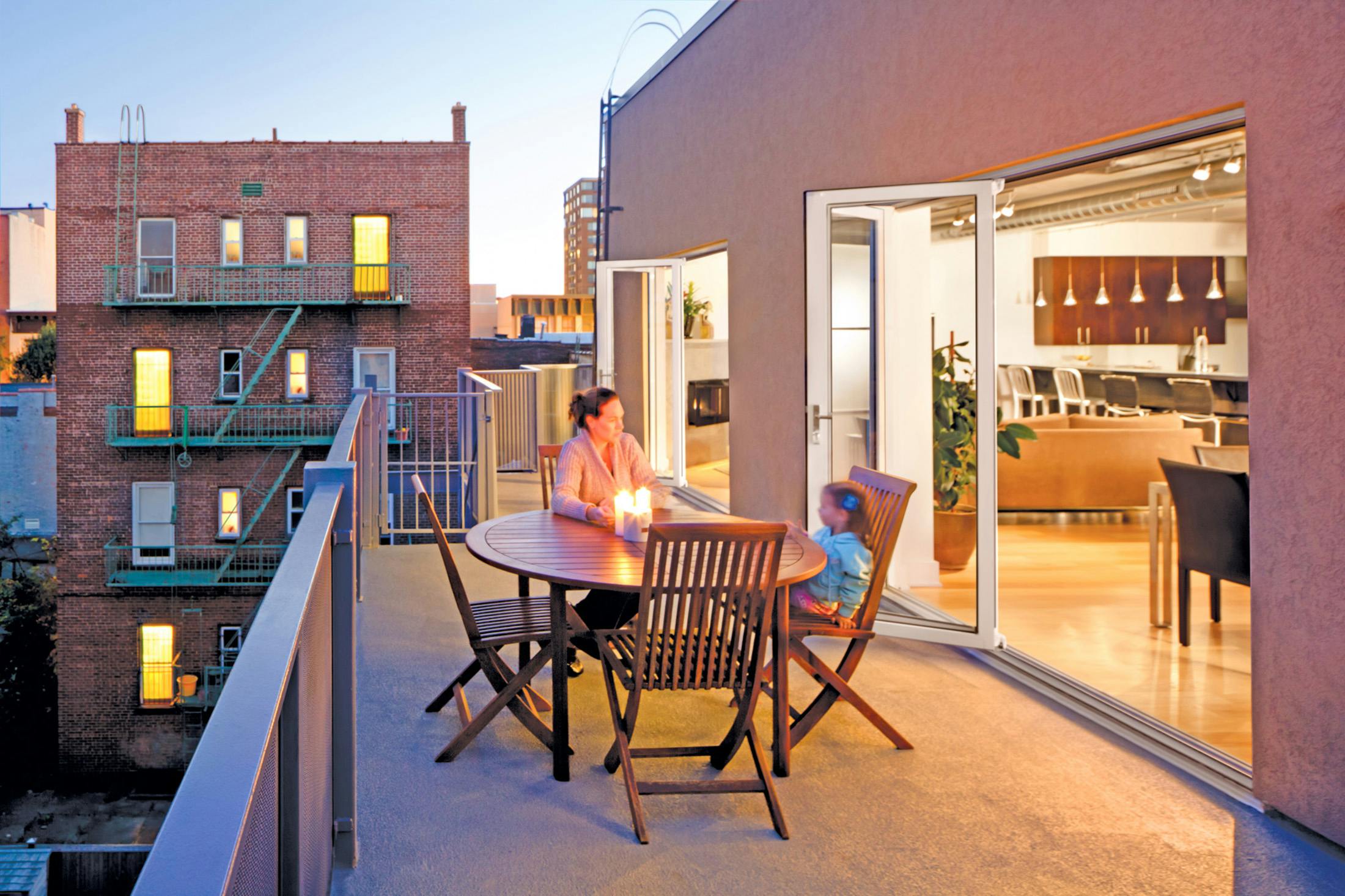 Mastering Indoor-Outdoor Balcony Design
Balcony design has been forever changed. Imagine replacing conventional balcony or terrace doors with folding glass walls, enhancing aesthetics, expanding space, and creating unobstructed indoor-outdoor flows. Transform limited balconies or single-door terraces dramatically with this innovative solution. With glass walls fully open, the balcony morphs into a natural extension of the living area, amplifying the usable space. Even when closed, these glass walls flood homes with natural light and scenic views, enabling residents to enjoy outdoor beauty without leaving the coziness of their homes. These systems eliminate the lines between the indoors and outdoors, redefining the balcony experience for multifamily developments.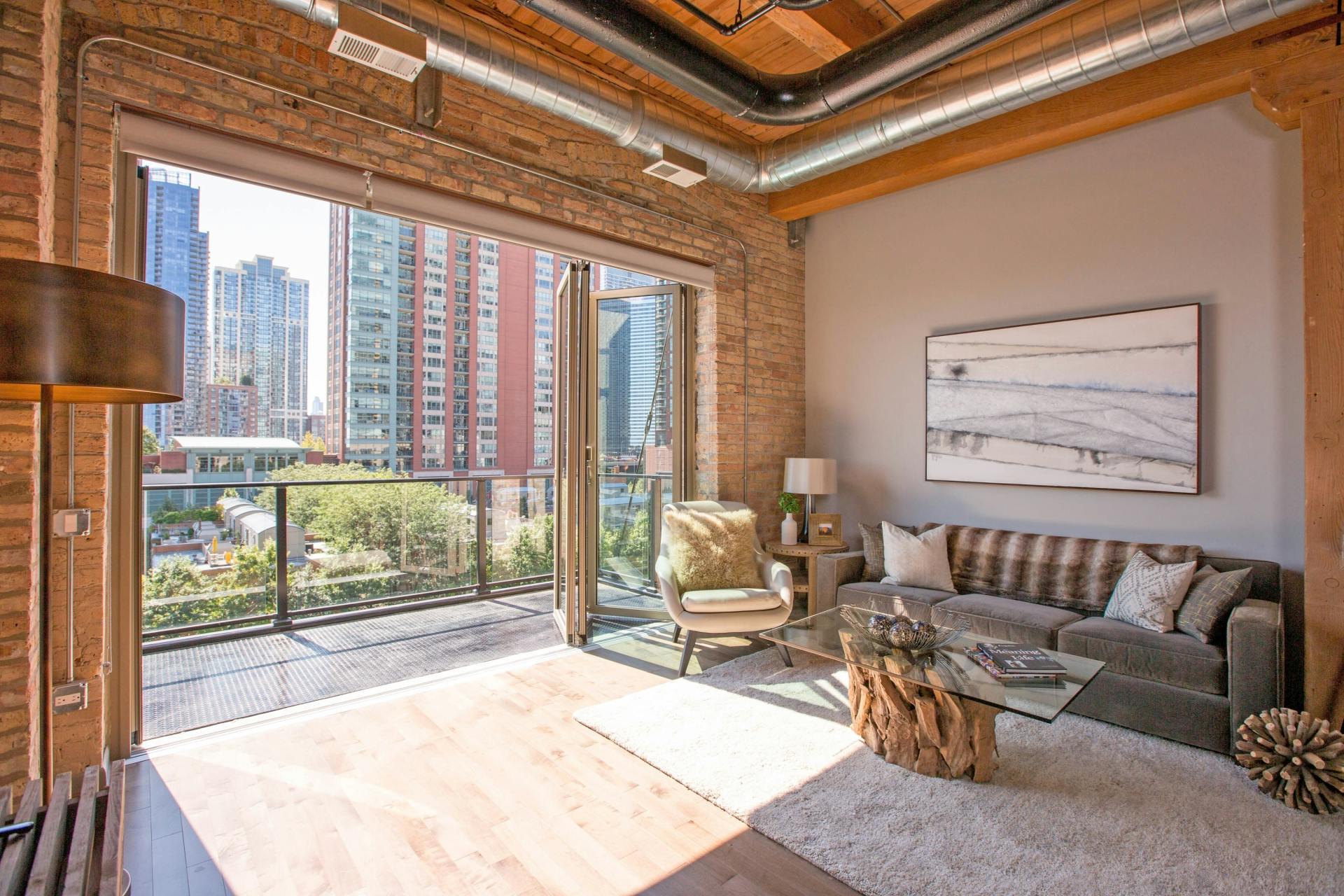 Breathe New Life into Multifamily Renovations
Folding glass walls breathe new life into multifamily renovations, adding unparalleled functionality and aesthetic value. A case in point is 'The Lofts at River East' in downtown Chicago pictured. Renovated using NanaWall floor supported folding glass walls, its apartments now feature seamless indoor-outdoor connectivity and riverfront views. With the enhancements the property management noted, "The apartments outfitted with the NanaWall are always the first off the market." For renovations, folding glass systems are an adaptable design solution and can be tailored to align with any existing architectural style.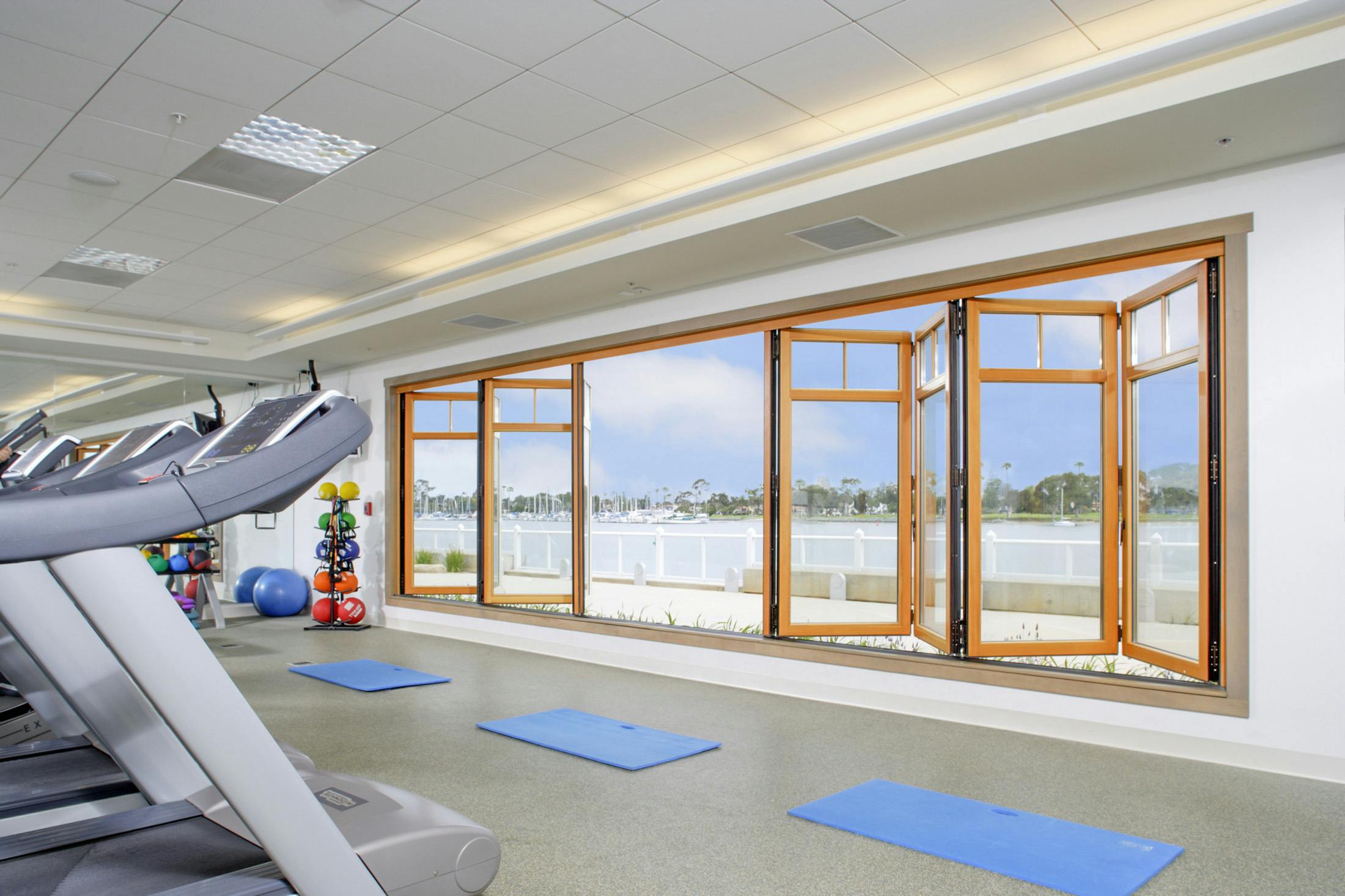 Modern Multi-Purpose Recreation Spaces: Live, Work, Play
By creating adaptable recreational spaces in mixed-use developments, you can allow residents to smoothly transition between various activities within the same building. To stay competitive, innovative functional design and enticing amenities are key selling features used. Rooftops are often overlooked and underutilized amenities that could be transformed into versatile outdoor recreational hubs. Particularly where open space is rare, rooftops can metamorphose into cozy lounges, vibrant sports courts, and even community pools.
Responding to a growing wellness movement and concerns about indoor air quality, residential developers and architects are focusing on incorporating elements like open-air design and natural light. These properties can offer a healthier living environment, attracting tenants who value wellness.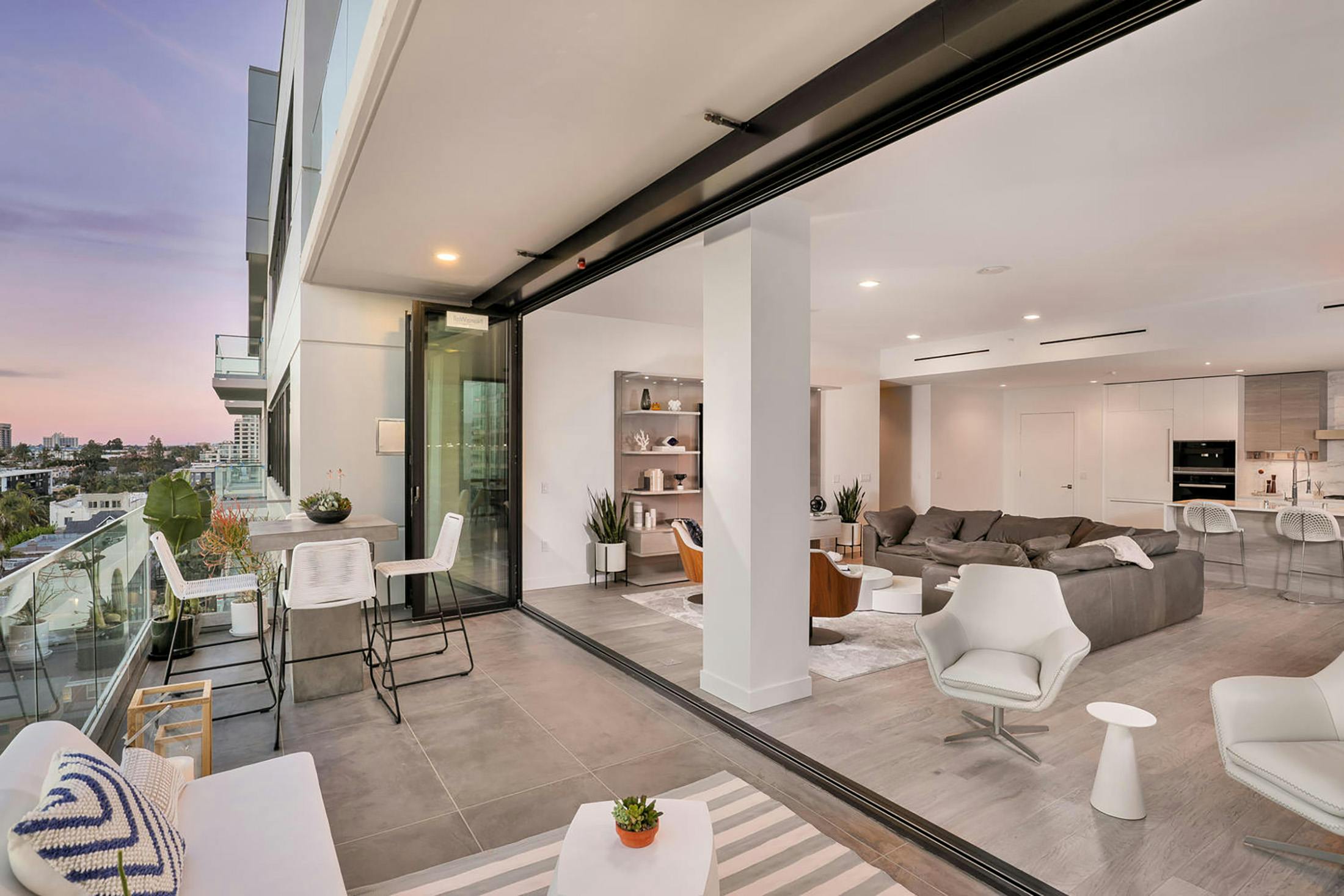 Final Thoughts
As the architectural landscape continues to evolve, folding glass walls perfectly balance aesthetics and functionality, giving developers, architects, and designers a versatile tool to redefine their projects. These performance-rated and durable systems offer limitless possibilities for multifamily developments to benefit from flexible spaces, maximized outdoor potential, and enhanced lifestyle. Be it in the lobby, on a balcony, or in a rooftop amenity space, NanaWall systems promise a positive ROI by creating safe, comfortable environments that retain occupants for a longer duration. NanaWall Systems continue to help shape the future of design and steer the architectural revolution toward healthier, more flexible, and more aesthetically pleasing spaces.
Request a quote or check out our extensive multifamily inspiration gallery for more innovative glass wall products and design ideas.