A Modern Masterpiece
By SF Gate , March 1, 2016
San Francisco Chronicle recently published this stunning Tiburon, CA remodel in the article titled Retractable glass walls create exemplary indoor/outdoor living in Tiburon that uses multiple NanaWall HSW single-track sliding systems to completely open up the home to panoramic views of the Bay Area. Here's an inside look into this $13.5 million home.
A masterwork of modernity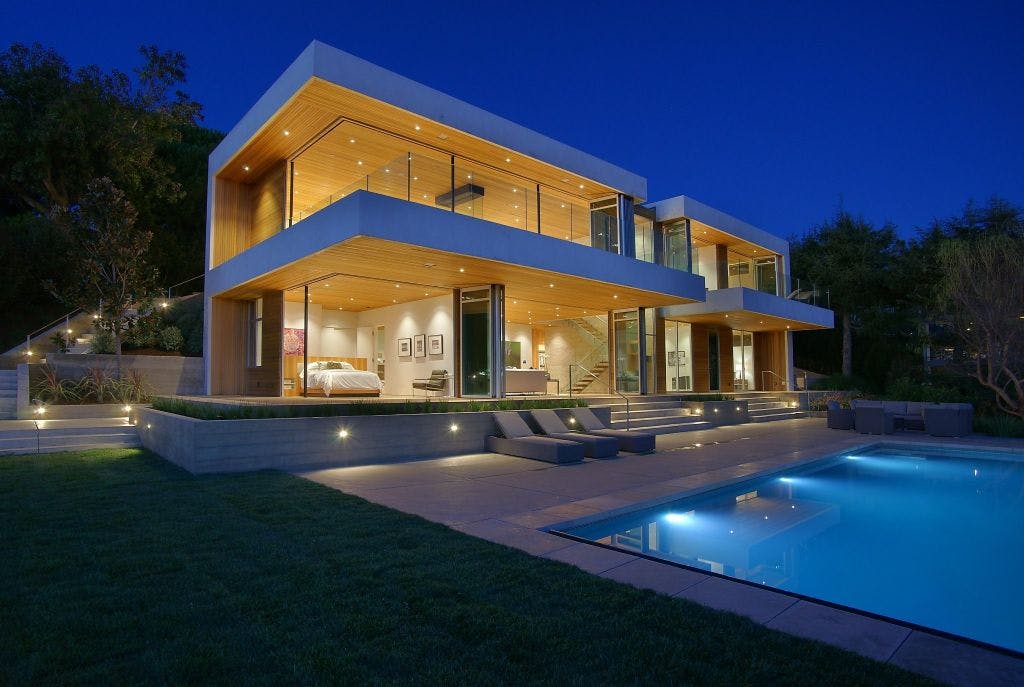 Some combination of bespoke finishes, smart home technology and staggering views accompany each step at 1860 Mountain View Drive in Tiburon's Haven Hill neighborhood. But amid book-matched Olivewood veneers, Italian marble, French limestone and retractable glass walls, there's something you're not going to see — a support brace for the southwest corner on either level.
"There's naturally a panoramic view and we didn't want any obstructions. Our design removed that visually distracting element and gives this feeling like you're suspended in the air," said Lowell Strauss of 1860 Mountain View, LLC, who quarterbacked the reconstruction of the four-bedroom modern masterpiece. Collapsible [NanaWall] glass walls converge at the southwestern corner, thanks to an expertly engineered cantilevered steel frame. This means there's nothing distracting your gaze as you pan from the Marin Headlands to the Golden Gate Bridge and downtown San Francisco.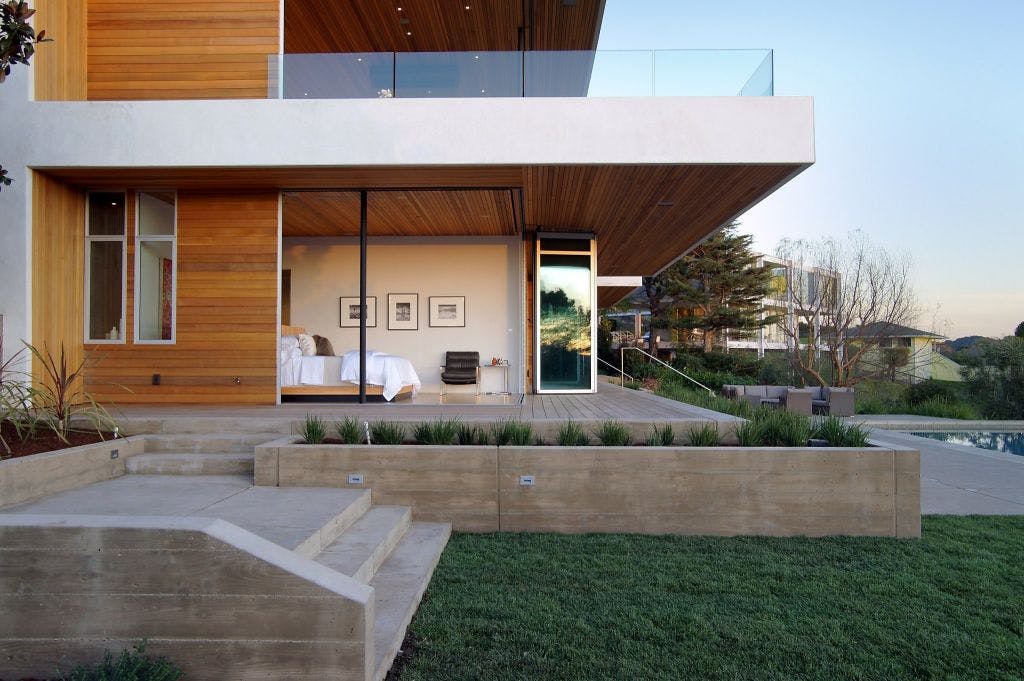 "We specifically set out to do something different," he said. "Not too many people in the Bay Area are building houses for resale with this level of customization."
His case has plenty of evidence. A resort-worthy master suite hosts a dual-sided fireplace that warms both the spa bathroom and sleeping quarters, and both segments of the suite open to the south-facing view deck and a mostly level yard conceptualized by landscape architect John Murton. An outdoor kitchen provides a casual gathering space, though it's safe to assume the infinity edge pool aimed directly at the views should have its share of admirers.
A suite of Miele appliances — including a coffee station and warming drawer — outfit the open kitchen topped by an acoustic cedar ceiling. The outdoor spaces are beautifully integrated with the indoor spaces to create an environment perfect for grand entertaining or private enjoyment with family and friends. Two dramatic decks with frameless glass railings are accessed from the main floor, one off of the great room and one from the master suite.
The Hill Haven home embodies modern California living and offers a seamless transition between indoors and out. Strips of flamed granite inside sit flush with the deck's Ipe planks, enabling an effortless move between the two with the glass walls out of the picture.
It's just one of countless examples of how Strauss and his associates agonized over every detail during the laborious rebuild.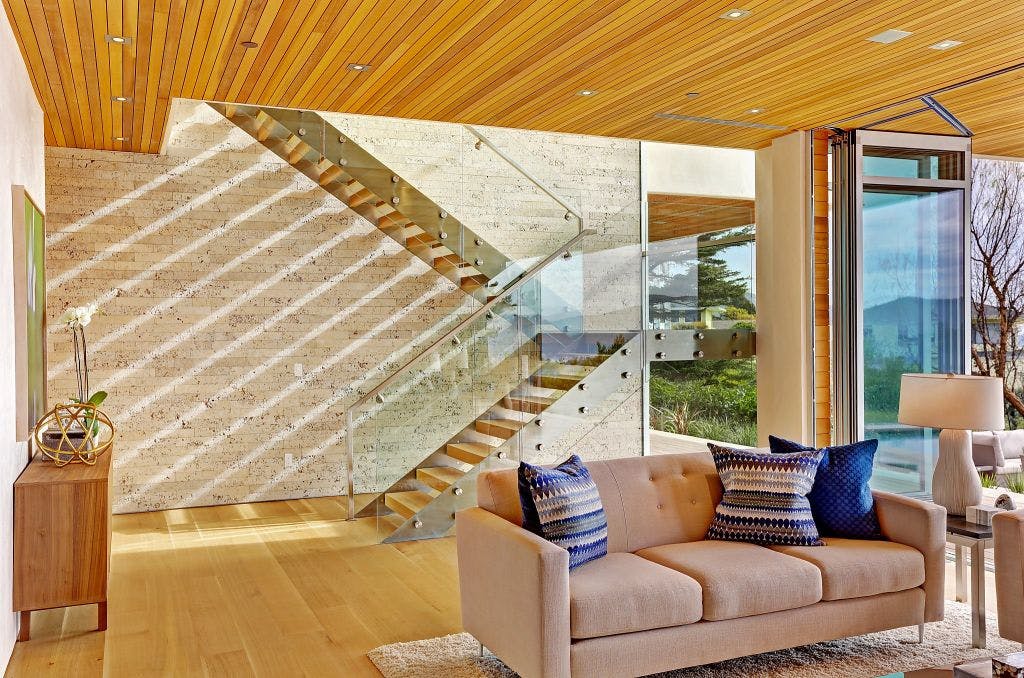 Strauss acquired the property — once a single-story ranch home — a little less than three years ago. He pressed the reset button a year into the process when he brought on architect David Kotzebue, whose expertise and ingenuity provided the missing piece.
His perspective birthed an inventive view home finished in Pacific red cedar, Venetian plaster and stainless steel.
"That parapet overhang coming off the house gives a lot of definition, and we chose to line it with cedar instead of stone or stucco because the wood softens its appearance," Strauss said.
Two glass walls seamlessly converge in the lower-level guest suite, thanks to the Kotzebue's cantilevered steel-frame construction. The innovative design eliminates a need for a support brace and allows the 11-foot NanaWalls to frame unbroken views. When collapsed, the retractable glass barriers connect the bedroom with a southern-facing Ipe deck near the home's infinity pool and level yard.
Like the master suite directly above, this guest bedroom enjoys a centrally located Olivewood bed for optimal views. Honed Canadian limestone clads the suite's spa bathroom and complements its cast concrete sink and counter. But it wouldn't be a master bathroom if it didn't stand above the others. A stainless steel soaking tub, rain head open shower and custom teak bench populate the lavish bathroom finished by a monolithic limestone center all with hydra-treated black granite insert.
Two more bedrooms — each with Golden Gate views and built-in storage — round out the sleeping quarters. Like so many other rooms, both bedrooms enjoy sliding glass walls opening to the half-acre lot. A Jack-and-Jill bathroom finished in Italian marble stands between the bedrooms.
Strauss invested considerable time, energy and resources into the home. He admits the process is intense, but that's part of its appeal.
"This is as much of a hobby of mine as it is a job. I love it, but I take it very seriously," he said. "It's all about finding quality-conscious people who share the vision of creating high-end designer homes."
Original Article: SF Gate