SL64 Acoustical is the first floor supported folding glass wall able to achieve unprecedented sound control up to an impressive STC 45.
This system combines sleek acoustically separated aluminum framing and specialized gasketing with sound-enhanced glass to achieve optimal performance with the range from STC 32 up to STC 45—all while allowing maximal transparency and natural daylight to flood interior spaces.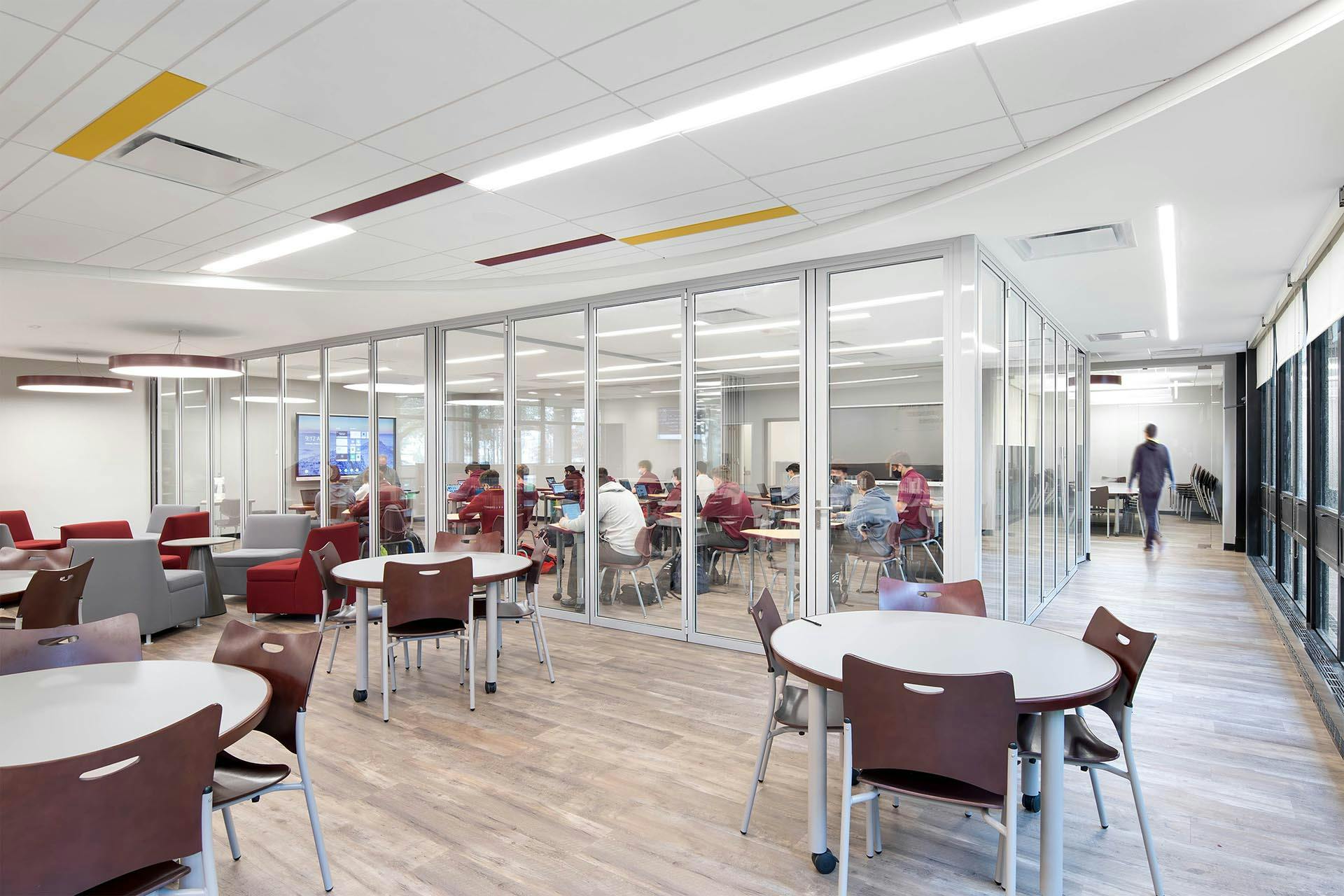 SL64 Acoustical is specifically engineered for educational applications and for interior spaces where acoustical privacy and ease of use are of utmost concerns. Formerly known as AcoustiFOLD,
SL64 Acoustical is an award-winning product.
Floor Supported Folding Glass Wall:
SL64 Acoustical is the only floor supported folding opening glass wall to achieve STC 45. With floor supported systems, the main weight of the unit is carried by the lower stainless steel wheel assembly gliding on top of the stainless steel floor track. The top track is used merely as a guide. Floor supported systems are ideal for applications where load-bearing capability of the header is a concern.
ADA Compliant Flush Sill for School Design
The Flush sill provided with SL64 Acoustical is ADA compliant with an aluminum floor track insert that provides high heel protection. This sill can be installed directly over finished flooring creating seamless integration between interior spaces.
Unique Gothic Arch Roller Design For Ease of Operation:
SL64 Acoustical is engineered for ease of use. Hinged panels are intuitive and quick to operate allowing staff to easily open or close the system on demand.
The running carriage rolls on a Gothic arch stainless steel wheel design supported by a double row of ball bearings. With a 2-point contact of each wheel to the floor track, the system glides quietly and smoothly with less friction by providing an equal distribution of weight on the stainless steel track.
Floating Left/Right Fourfold (4L/R) and sixfold (6L/R) panel sets:
This folding system allows for larger opening sizes and flexible space management with the integration of FourFold or SixFold panel sets. These panels are able to move and stack either to the right or to the left within the same track allowing the panels to be stacked in the most convenient location. System may be either inswing or outswing.
Anti-tilt Feature:
Each set of FourFold or SixFold panel sets is outfitted with a proprietary engineered anti-tilt feature in the head track. This feature assures that the weight of the panels does not cause the panels to lean or tilt to the side when in stacked formation.
Adjustment Features:
To allow for tolerance, a patented (Patent No. US10683688B2) lateral adjustment feature of +/- 3/16" (5 mm) for system width is available at the side jamb. This allows for consistent seal compression within system. System height is adjustable within the roller assembly.
Minimal Sightline:
Panel frames are slim and contemporary with a total 3 7/8" (99 mm) junction where two adjacent folding panels meet. Top and bottom rails are a minimal 2 5/8" (66 mm), providing slim-line aesthetics. Panel depth is 2 5/8" (67 mm). To coordinate with interior design programs, horizontal mullions are possible.
Swing Doors:
To accommodate traffic flow, SL64 Acoustical configuration options allow for an up to 3' 3" (1000 mm) swing door at the side jamb at one end or both. For requirements of STC 37 or less, swing doors can be added to an odd number of panels hinged to the jamb. Optional higher kickplates, panic hardware and top door closers are available.
German Engineering
NanaWall systems are designed in Germany, providing world-class quality and long-term reliability
Unique to You
Each NanaWall system is custom made to order based on your project and your personal preferences
Wide Openings
NanaWall folding systems can replace walls or doors up to 39' wide, select systems can go even wider if desired
Built to Perform
NanaWall systems meet or exceed air, water, structural, and forced entry tests for weather, durability, and security
Aesthetics
NanaWall systems offer a variety of material options and finishes to coordinate with any design
Ease of Operation
NanaWall systems offer single-handed operation and move smoothly with little effort